Insane Charity Bike Ride UPDATE 4! Nine Days to Go!
HOLY CATS, you guys! We hit $7,500 raised for the Fair Share Coalition, thanks to a hugely generous donation from Joshua Berne. And then we hit $8,500! And now we're on our way to $9,000!
EDIT WE JUST PASSED $9,000!!! (Sept.6)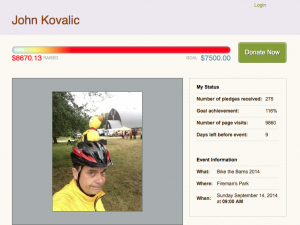 And pledges are still coming in from around the world! And I'm going to be doing the insane sixty-mile charity bike ride with a Duck of Doom on my head AGAIN…but also with two plus tentacles mounted to my helmet, bike, jacket, or whoever they'll fit.
This is amazing, and I can't thank you all enough. It's also much-needed, as overall, the Fair Share CSA Coalition is still 33% away from its fundraising goal. So the army of Dorkness is representing in a strong and powerfully helpful way!
The INSANE SADDLE-BAG OF HOLDING is already bursting, and anybody who pledges to my Insane Charity Bike Ride will get pdfs of:
WILD LIFE, THE CARDINAL COLLECTION – Carson the Muskrat's first comic strip, from my college days.
A BRIEF HISTORY OF GAMING – Dork Tower #34
DR. BLINK #1 by me, Chris Jones and Melissa Kaercher
The Dork Tower LORD OF THE RINGS SPECIAL
DORK COVENANT, the first Dork Tower trade paperback, 160 pages of dorky fun!
EMBRACE THE SQUEE – the very, very geeky coloring book I created for this ride, last year.
SNAPDRAGONS #1 by John Kovalic and Liz Rathke (added August 29)
I hope to have some more pdfs from friends to add next next week – fingers crossed! But with nine days to go until the ride, there's a chance we'll come within spitting distance of $10,000 raised and HOLY CATS I'm so proud of you all! I'm seriously gobsmacked. I was worried that we'd make it to $5,000, and there's a chance we might double that!
And of course anyone pledging $15 or more gets a Munchkin ONE GOOD DEED postcard mailed to them, signed by me, letting them start a game of Munchkin at level 3!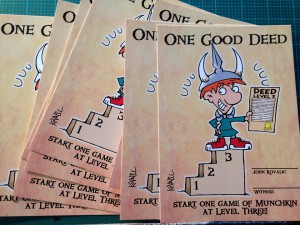 Also, this happened:
MEANWHILE, IN REALITY, THE DALEK IS PLEASED TO SEE HUMANS HAVE PLEDGED OVER $7600 TO FORCE THE HATED @muskrat_john TOWARD A CARDIAC EVENT.

— THE REPUBLICAN DALEK (@RepublicanDalek) August 30, 2014
Which led to this:
IF TOTAL REACHES $8,000 THE DALEK PLEDGES TO DRINK COLD BEER & LIVE-TWITTER MOCK @muskrat_john'S PAINFUL PROGRESS! http://t.co/RxwZU9bXqJ

— THE REPUBLICAN DALEK (@RepublicanDalek) August 30, 2014
IT WOULD LOOK SOMETHING LIKE: @muskrat_john These tentacles keep getting caught in my spokes! @RepublicanDalek A FINE PORTER FOR HOUR 4!

— THE REPUBLICAN DALEK (@RepublicanDalek) August 30, 2014
What more could you ask for?
This is a great cause, and the Army of Dorkness is making such an important contribution to it!
Thank you, thank you, thank you – from the bottom of my heart!
John
PS – for those wondering, all the PDFs should be sent to backers the week after the ride. Which is also when I'll pull together the original Munchkin art for those pledging $200 or more. The postcards will start going out in batches as fast as I can, but with nearly 250 pledgers, these may take a bit of time.