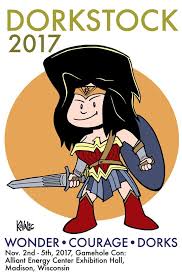 GAMEHOLE CON is nearly here, and with it comes DORKSTOCK 2017 – a teeny tiny little division of the show!
Nancy Hutchins, this year's Dorkstock Director, has put together the largest one yet! Huge thanks to her for all her help (particularly since I've been occupied with other things – I'll be less of a do-nothing slacker next year, honest!)
Thanks also need to go out to Alex Aulisi (Dork Storm Press's Business Manager), John "Shadowcat" Ickes, Frances Moritz and David Michael, who've been helping across the board with logistics and more.
As per usual, Gamehole Con will feature a plushie I've designed, based on a classic roleplaying monster. This year it's Chesty the Mimic. All proceeds will go to charity, and I'm happy to say this year that charity is the FairShare CSA Coalition – the organizers of Bike the Barns (you know: me cycling huge distances with a duck on my head).
Chesty joins previous Gamehole Con plushies Derpy Owlbear (2015) and Bully Bullette (2016). I believe this now officially makes it a menagerie.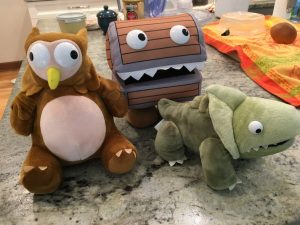 (As per usual, if there are any left over, I'll post details on how you can get them).
This year also marks the return of the Great Igor Bar Bake Off!
MAIN POINT BEING, here's the full Dorkstock track of Gamehole con events! If you get a chance, stop by! We don't bite.
Apart from the mimic, that is…
(PLEASE NOTE: The IGOR BAR Bake-Off was incorrectly listed for Friday, at 1 pm. It will be Saturday, at 1 pm. GET BAKING, folks!)
(1-2 Fri Slot 3 : Igor Bar Contest (Frances Moritz, John K. Scott Olman) Mendota Room)
DORKSTOCK EVENTS AT GAMEHOLECON
Time
Event
Game Master
Table
6-8

Thu Slot 1

: Dorkstock Pre-Con Gathering
Nancy, John I.  & Laura
Main Open
Game Room
8-10

Thu Slot 2

: Dorkstock Pre-Con Gathering
Nancy, John I.  & Laura
Main Open
Game Room
12-2

Fri Slot 3

: Dorkstock Opening Ceremonies
John K., Nancy, John I. & Crew
Mendota Room
2-4

Fri Slot 4

: Bosworth
Nancy Hutchins
5
2-4

Fri Slot 4

: Warhamster Rally
Laura Murin
4
2-4

Fri Slot 4

: Munchkin Wonderland
John Ickes
2
4-6

Fri Slot 5

: Warhamster Rally
Laura Murin
2
4-6

Fri Slot 5

: Munchkin Wonderland
John Ickes
4
4-6

Fri Slot 5

: Chez Cthulhu
Nancy Hutchins
3
4-8

Fri Slot 5 & 6

: Munchkin Quest:
Adam Miller
5
6-8

Fri Slot 6

: Dork Frag 3D
Nancy Hutchins
4
8-10

Fri Slot 7

: Dork Tower Dealer's Doom 3D
Nancy Hutchins
5
8-10

Fri Slot 7

: Munchkin Shakespeare
John Ickes
4
8-10

Fri Slot 7

: Simon's Cat: the Card Game
Laura Murin
3
10-12

Fri Slot 8

: CASH 'n GUNS
John Kovalic
1, 2 & 3
10-12

Fri Slot 8

: Munchkin Shakespeare
John Ickes
5
8-10

Sat Slot 1

: Dork Victory Button Men:
John Ickes
4 & 5
10-12

Sat Slot 2

: Chez Geek
Adam Miller
5
10-12

Sat Slot 2

: Escape From Dork Tower LIVE!
Nancy Hutchins
Lobby
10-12

Sat Slot 2

: Munchkin Cthulhu
Laura Murin
4
12-2

Sat Slot 3

: Escape From Dork Tower LIVE!
Nancy Hutchins
Lobby
12-2
Sat Slot 3 : Munchkin Apocalypse
Laura Murin
5
2-4

Sat Slot 4

: Escape From Dork Tower LIVE!
Nancy Hutchins
Lobby
2-6

Sat Slot 4 & 5

: GURPS Dungeon Fantasy: Lost Inheritance
John Ickes
4
4-6

Sat Slot 5

: Munchkin Tournament
Laura Murin
2 & 3
6-8
Sat Slot 6 : Dork Tower
Laura Murin
3
6-8

Sat Slot 6

: Dork Wanderings
Nancy Hutchins
5
7

WHAT'S UP WITH MUNCHKIN AND DORK TOWER? Starting at 7 PM

John Kovalic
Seminar
8-10

Sat Slot 7

: Ghosts Love Candy
John Ickes
2
8-10

Sat Slot 7

: World of Dorkness:
Nancy Hutchins
4
10-12

Sat Slot 8

: Dead & Breakfast
Nancy Hutchins
4
10-12

Sat Slot 8

: Port Royal
John Ickes
3
10-12

Sun Slot 2

: Escape From Elba
Nancy Hutchins
5
10-12

Sun Slot

2 : Muertoons
Laura Murin
1
10-12

Sun Slot 2

: Munchkin Tournament Mach 2
John Ickes
Becca Steudel
3 & 4
10-2

Sun Slot 2 & 3

: The Quest for Toon Munchkin
John Ickes
2
12-2

Sun Slot 3

: Camden
Nancy Hutchins
5
12-2

Sun Slot 3

: CASH 'n GUNS
John Kovalic
4
12-2
Sun

Slot 3

: Chez Geek
Adam Miller
3
12-2

Sun Slot 3

: Zombie Dice Horde Edition
& other Dice Games
Laura Murin
1