OK, guys – act fast on this one!
If you missed GameHoleCon, and want one of the Owlbesr plushies that I designed, Noble Knight Games in Janesville, WI, has some.
I'm not sure how many they have, but they tweeted that supplies are limited.
The plushies are $22.50, at the moment, and I'm told by a reader that even the postage to Australia is pretty reasonable.
Give a Hoot! Buy a brute!
****
So, on Monday, this happened:
Awesome and amazing shirt spotted at Atlanta meet and greet last night. @TheFoxTheatre pic.twitter.com/E23VaGpw9V

— Adam Savage (@donttrythis) November 16, 2015
@donttrythis Many thanks, Adam. I'm the designer. Let me know your shirt size, and I'd love to send you one! https://t.co/vpXhM1320g — John Kovalic (@muskrat_john) November 16, 2015
Let it be known Adam Savage is one of the nicest people on earth, and the Lovely and Talented Judith and I now find ourselves in possession of tickets to the Madison Mythbusters "Jamie and Adam Unleashed" Live show and Meet-and-Greet!
And if you like the shirts, you can find them here.
And look! Admiral Ackbeer pint glasses and prints are here!
****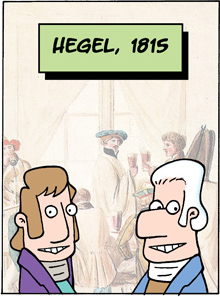 Tuesday's Dork Tower is the kind of thing I suspect drives many folks screaming from the website, never to return.
Relatively obscure philosophy comic? Check. But in my  mind's eye, I loved the idea of how the second panel might look, and I wanted to draw that.
Sometimes, I get a giggle out of a strip that maybe three other people will get. This was one of those times.
Be thankful I didn't go all Jeremy Bentham Utilitarian on you.
If you'd like to read up on Hegelian Dialectic, a rather bland description can be found right here. (The more you know).
For funsies.
Philosophical funsies.
****
OK. I'm off to the surgeon's now. To hear if I'm 100% better or not.
I suspect I am, but I'm not the professional…
– John