Hey, all,
A lot of people have been asking how I'm doing.
In other circumstances, I should be in London right now, visiting my family.
My sister, a surgeon, said absolutely no way should I be flying transatlantic, following surgery. So I won't. She's a top-notch doctor, one of the best, a member of the Royal College of Surgeons, and should be listened to. Also, she has knives.
A week ago, today, right about now, I was being wheeled out of emergency surgery, slowly regaining what passes for "consciousness" following general anesthetic. I had to skip much of last weekend's GameHoleCon, which meant missing many friends, who were in town. And I had to axe my trip back to London.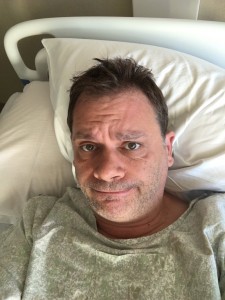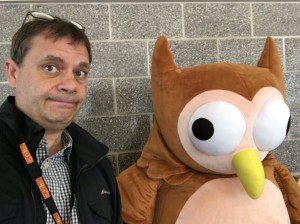 But that's OK. I'm on the mend, and feeling pretty decent, all things considered, a week after the fact. In fact, today's my first full day without painkillers of any sort – not even aspirin. So I don't have any excuse for the typos anymoer. DAMMIT!
People Who Know Things are still advising/threatening me to Take Things Slow ™. Which is frustrating, because I feel like I'm capable of doing a lot, right now. At least a lot more than I'm actually doing. But I've often found that heeding the advice/threats of People Who Know Things is, in general, the best idea.
I won't be able to drive for another week or so, meaning I'm stuck at home most of the time. Fortunately, we have a comfy home (thank you, Apples to Apples), and I can get some work done, while wandering around it aimlessly.
So I'm drawing a little bit again, and trying to get several small projects taken care of before the next big ones start landing on my desk (It's THAT TIME OF YEAR, in the Tabletop Games Industry). But overall, it's frustrating, feeling like I should, and could,  be doing more…but also knowing that that's not a great idea, just yet.
A lot of friends have been through some tremendously trying times, this year – much, much rougher than this. I allowed myself to feel glum about my situation for jusssssst a little bit, but really, I do understand just how lucky I am.
Messages like this, from all over the world, sure did help:
From: Wolfgang Klein 
Subject: The gall of it all: get well soon!
Location: Germany
Hello John!
I am a great fan of your art work and your humor, and I am sad to read you had to go to hospital for some serious reason, but I am also really glad that you did not loose your sense of humor. "What's the gallbladder's purpose?" I really had to laugh about the answer to that question.
Two years ago I slipped on ice and broke several ribs, and they began to stab into my lungs. The funny thing about this was, that I did not realize this at first, but in the night after the fall: some time in the night I woke up and had this terrible pain which made me unable to move, I even couldn't breathe normal any more.
I think I have a very good idea of how you felt.
I had to spend two weeks in hospital, drugged with painkillers, so I could breath normal. (There's nothing you can do to broken ribs, you can't put plaster to them, you can't operate them.) Luckily, all those days in hospital I had some of your comics that helped me pass the time. The doctors told me not to laugh too much, it could counter effect the pain killers, but I did not really care about that.
So, I like to wish you a quick recovery and that you get well very soon. The world need humor like yours.
Sincerely,
Wolfgang Klein
So, there you go. Me = One of the Most Fortunate People Alive. Thank you all so much for being so great, and being there for me! I'm not 100% yet, but I'm feeling a lot better. And you all are helping.
You guys mean the world to me!
John