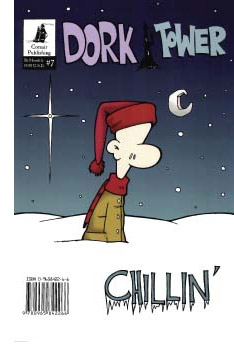 Muskrat Ramblings
"Free Holiday Comic Book," you say?…
posted by John

Merry Christmas and Happy Holidays!
I wanted to give you all a Christmas present! So here's a free copy of Dork Tower #7: the Holiday Special! It even contains a free game inside, as well, "Dealer's Room"!
HOW MUCH FREE CAN YOU STAND?
Just go to Drive Thru Comics, and from now until January 1, you can get the PDF for free! (You may even test out some of the free iPad (etc) comic book readers out there.
BUT WAIT – THERE'S MORE!
We've got to make room for new electrons in 2012, so from now until January 1, we're having a 25% off sale on all Drive Thru Comics PDFs of:
This included the foreign translations up there! Learn Spanish with Dork Tower!
Next week, I'll try and run through some of the things I hope to accomplish in 2012 – Dork Tower's 15th anniversary. But until then, THANK YOU all so much for reading my stuff these last few years. I deeply, truly appreciate it!
And have yourself a Dorky Little Christmas!
—
Dork Tower * Out of the Box * Munchkin
Dr. Blink: Superhero Shrink * My Little Cthulhu
Also: Much Stuff I'm Probably Forgetting
http://www.dorktower.com
Facebook: http://www.facebook.com/johnkovalic
Twitter: https://twitter.com/muskrat_john
Dork Storm Press
Box 45063
Madison, WI 53711