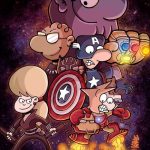 If you follow me on Twitter or Facebook, of if you are a Dork Tower Patreon backer, you may have seen the Infinity Dorks art I drew, and that Brian Effing Patterson colored brilliantly!
It's Free Comic Book Day, May 5th, and to celebrate the Dork Store will be giving away 4×6 Infinity Dorks prints absolutely free. Anywhere in the world! All you have to do is come to our store and fil out a request form at https://dorktower.bigcartel.com/product/free-comic-book-day-2018-free-prints  The form will open at 12:01 am Eastern Standard Time (USA) May 5th and stay open for 24 hours to accept requests.
The Dork Store will also be hosting a Thanos-sized sale during those same 24 hours.  You can find all items that are on sale in one place at: https://dorktower.bigcartel.com/category/free-comic-book-day-sale (the link is good now but not all items will show up in there until the sale starts when everything will be listed)!
Some of the items in the big sale include:
Here's the new Galactic Beverages pint glass art – a perfect companion for that Admiral Ackbeer set you may have!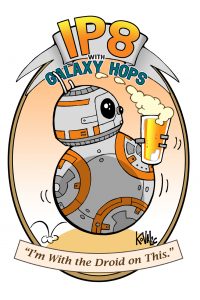 In addition to the sale prices, everyone can use the code FCBD18 to receive an additional 10% off their total order.
Also? Here's that free Infinity Dorks print art, non-thumbnail-sized (click on it to see the larger version – Brian's colors are spectacular!):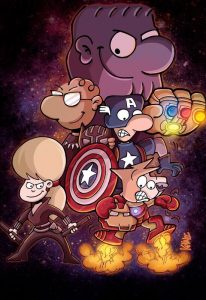 Strap yourself in—here we go!
– John