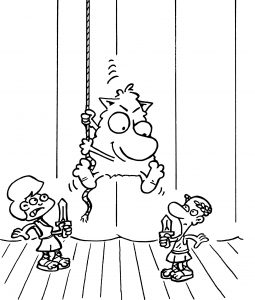 Hey, gang – I'm working through my schedule for 2017, and finally updates the Appearances page here at the mothership.
There may be some small cons added, here and there. There are definitely some big shows in late 2017 I can't talk about yet – at least one in Canada that's not been announced, and a couple of other overseas visits that are being finalized.
"Why don't you ever come to XXXX?" some folks invariably ask. The short answer is: I haven't been invited. It';s up to the shops themselves, who they bring in. But there are many places I'd love to see – so if you want your local show to bring me to your neck of the woods, bug them! The Appearances page has all the info they need!
For the most part, I'm trying to travel a bit less, and get work done here at home. But for right now, if you're looking for me in 2017, here are some off the places I'll be:
GAMA TRADE SHOW
(Trade show -Industry only)
March 13 – 17, 2017
Las Vegas, NV
PYRKON
April 28-30 2017
Poznań International Fairgrounds
Poznań, Poland
ACD GAMES DAY
(Distributor Open House – Industry only)
May 24 – 27, 2017
Madison WI
UK Games Expo
June 2-4, 2017
National Exhibition Center,
Birmingham, England
GEN CON
August 17 – 20, 2017
Indianapolis, IN
GAMEHOLE CON/DORKSTOCK 2017
November 2-5, 2017
Alliant Energy Center Exhibition Hall
Madison, WI


Sometimes you walk away from a strip that's not quire right.
And sometimes you fiddle with it throughout the day.
I fiddled with yesterday's cartoon throughout the afternoon.
Here's how a cartoonist overthinking a gag looks, at odd intervals:
FIRST TRY: 9:30 am, Tuesday morning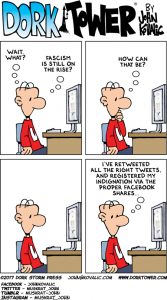 SECOND TRY: 1:30 pm Tuesday afternoon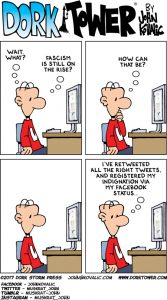 FIRST TRY: 3:30 pm, Tuesday afternoon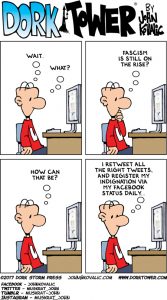 It never got quite where I wanted it to, but at least the third shot seems closer to what I was trying to get across than the others.