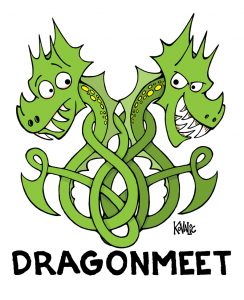 Hey, guys!
Sorry! Long time no desperate wailings about the fall of Western Democracy talk see!
HEY! This Saturday – THIS VERY COMING SATURDAY – I'm returning to Britain's DRAGONMEET, at the Novotel London West, in Hammersmith, for the first time in years!
You have no idea how excited I am, to be back at this amazing con after all these years. This was always a very special con, for me. I'm so ridiculously pleased to be a returning guest.
I'm bringing my signing pens, and here's my schedule at the moment
11 am – noon: Signing at Main Desk.
2.30-3.30: Seminar "What's up with Kovalic? Munchkin, Dork Tower, and all..?"
4.30-5:30 pm: Signing at Main Desk
6pm – BEERS! Somewhere.
Bring anything you'd like signed: I also designed the nifty Dragonmeet t-shirts this year, which will be available. As you well know, though, unsigned Things By Me always bring higher eBay prices than Signed Things By Me: they're far rarer.
I am tremendously excited to be back this great convention! As many of you know, despite my current accent (I've had many, over the years), I was born in Britain, so Dragonmeet has always been a special con, to me.
It almost feels like a homecoming!
John