"John," you say, looking at your watch awkwardly when you should be looking at me, "What are you most eagerly anticipating, at Gen Con this year?"
I'm glad you asked!
I'll be part of an amazing event, run by my great friend, Will Hindmarch, and chock-full of people I love and admire:
"Who The #@%! Is My D&D Character?!":
Watch (& help) writers like Jim Zub (Skullkickers, Wayward) embark on a totally unofficial D&D adventure as they take on characters randomly generated from online prompts!
I'll be there with Jim, and so will Sam Sykes, Angela Webber and Lauren Roy, and it looks like it will be a blast. I'm ready to have my characters die early and often.
It's Thursday, at 7 pm, Crowne Plaza : Pennsylvania Stn C. I think it's going to be an absolute blast. Don't miss it!
(My full Gen Con signing schedule is here, by the way…)
****
ADVENTURE TIME WITH FIONNA & CAKE CARD WARS #1, from BOOM! Studios, should be in stores now, along with my variant cover: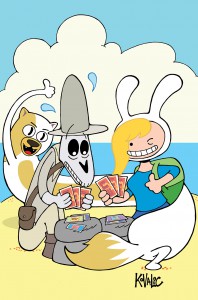 I'd love to think I'm the first person to bring a Bergman reference to Adventure Time, but somehow I deeply doubt that.
I kinda like dipping my toes in the comic book pond again. I may have to do it more often.
– John