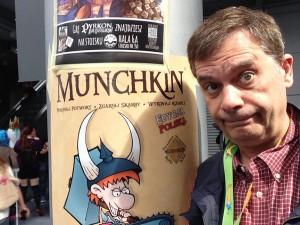 It's been a while since I updated my convention appearances schedule. So here…we…gooooooooooo!
Currently, confirmed gigs are:
GEN CON
July 30 – August 2, 2015
Indianapolis, IN
(I should have my Gen Con schedule firmed-up soon – I'll probably be doing two signings a day on Thursday, Friday, and Saturday. One at the Steve Jackson Games booth, and one at the Asmodee booth. I fly home Sunday.)
FAN EXPO
September 3-6, 2015
Toronto, Canada
ALLIANCE DISTRIBUTION OPEN HOUSE
September 12-14, 2015
Fort Wayne, IN
GAMEHOLE CON
November 6-8, 2015
MADISON, WI
There are a couple others on the docket, but they aren't confirmed just yet.
As always, if you'd like me to come to a con or event, head over to the Appearances section of the web site. I do't do a ton of cons – I try and keep a healthy balance between homelife and travel – but it never hurts to ask. OR DOES IT?
(I am hoping to make to more European conventions again, now that my sister's back in England.)
– John