SOUP'S ON!
I did some kitchen improv and came up with an approximation for an easy, tasty soup I tried a few years ago, in Morocco. But before getting to that, I want to post a couple of quick things that blew me away, and helped turn a relatively lousy day into a delightful one.
Yesterday started out crummy, in a work and stress and shattered iPhone and getting-all-up-in-my-head kind of way. But a couple of things popped up that made me remember how lucky I truly am.

REASON TO BE HAPPY PART ONE: Andrew Shell used one of the drawings from the Embrace the Squee charity coloring book, for the nursery he's readying. He projected the picture on the wall, and then painted it in. That pretty much made my day!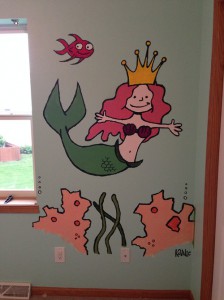 REASON TO BE HAPPY PART TWO: At the Origins Game Fair, Munchkin player Ron Gamble asked me to sign some cards for Australian wrestler Massive Q.
HERE'S WHAT FREAKING HAPPENED NEXT!
Not gonna lie. It was spectacularly gratifying, watching this!

REASON TO BE HAPPY PART THREE: Realizing your job description is essentially "make people happy," or, at least, "happier"…and then watching folks enjoying your silly little doodles.
I'm a lucky guy, indeed.

ENOUGH WITH THE FEELS! YOU MENTIONED SOUP, MUSKRAT-BOY!
The ZuZu Cafe, a local eatery that Daughter, Age 5 and I visit whenever we go to the zoo, serves an unassuming little soup I just love, called Chicken Jarré. It reminds me of some of the soups I had in Morocco, and it's one of those small, delightful meals around town that simply makes me smile whenever it's in front of me.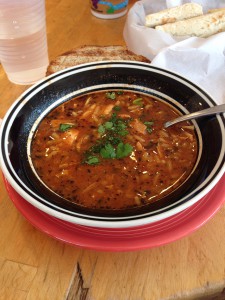 I tried to make it at home yesterday, improvising a recipe, and actually came pretty close. I  had some leftover chicken breasts from a batch of  Williams Sonoma slow cooker Chicken Tagine, and realized that the flavor profiles were pretty darned similar.
This is essentially a first draft of the recipe, but I wanted to get it down before I forgot it (I tend to wing things, in the kitchen). Even if it could use a bit of tinkering, the soup itself came out great, and – along with some warmed pita bread and a salad – made for a delightful summer dinner.
JOHN'S JARRE (1st Edition)
Serves 4-6
Take
1 medium Onion, diced fine.
1 celery stalk, diced fine.
4 garlic cloves, minced.
2 T olive oil
Saute in a gallon-sized pot for 5-6 minutes, making FREAKING sure the garlic doesn't burn. Then add
1 t cumin
1 t ground ginger
1 t paprika
1/2 t cinnamon
1/2 t coriander
I like my soup spicier, so I tend to "heap" my measurements here. Continue to saute for 2-3 minutes, to open up the spices. Then add
6 c. chicken stock.
One 15-oz can garbanzo beans, drained
Simmer for a half-hour to 45 minutes, until garbanzos soften a bit. Taste the soup, then add
Finally, toss in
1/8 – 1/4 cup chopped parsley (I didn't measure, here)
1/8 – 1/4 cup chopped mint (I didn't measure, here)
1/2 cup rice (I didn't measure, here – I used two handfuls)
Simmer for another half hour to 45 minutes, until the texture of the rice is soft, but not mushy. Finally add
1 – 2 cups shredded chicken (I didn't measure, here – it was one very large breast)
Zest from one lemon
Juice from 1/2 lemon
(Tip: Assuming you don't have that lovely large tagine-style chicken breast on-hand that I did, simmer a chicken breast on the bone in the soup as soon as you add the stock, then remove at the end, let cool, and shred, for a nifty flavor enhancement.)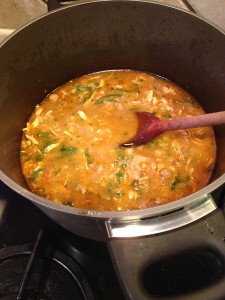 Serve in bowls,  sprinkled with chiffonaded mint leaves.
The results were great, with a surprising depth of flavor. The color of the homemade soup was far lighter than the ZuZu Cafe version (I'm assuming harissa is behind their vibrant look), but that's something I'll tinker with next time.
Meanwhile, I'm happy how this easy, tasty, and relatively healthy soup, full of Middle-eatern flavor, ended up. It's just right for a light, lovely summer meal. Particularly with some Moroccan mint tea, afterwards.
If you try this recipe, do let me know your results. Next time I make it, I'll keep a closer eye towards true measurements of some of the ingredients I simply eyeballed.