QUICK! ONE THING FIRST! Lots of folks have asked for prints, mugs and tote-bags of yesterday's "Writing: Bad Days and Good" comic. So now they're available from the Dork Tower Society6 store! For the insecure artist in YOUR life! (HINT: this may mean "for YOU!")


OK. Onto the real news. It's time for…
Some Gamey Updates
Buncha things going on! Sorry. Can't talk long. Gotta get back to the drawing table. Buncha things going on. (Repeat on loop until driven mad). But here we go:
FREE SHIPPING: ROFL!
My party game, the embarrassingly well-reviewed ROFL! can at last be ordered through Amazon prime, meaning FREE SHIPPING if you have Prime! Huzzah huzzah!

Can't lie about this one: drawing the goblins from Munchkin Pathfinder was hella-fun.  Thus this 15-card booster of NOTHING BUT GOBLINS was about as much fun as a cartoonist could ask for!  Fight off the Goblin Babies, Cog Goblin, and Goblin Hood with the Gobliterator! Just don't get Gobsmacked!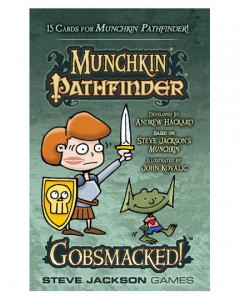 And may I just say here that the folks at Paizo are just the best, to work with? The best!
This was an easy one for me – all I had to draw was the cover, and three new cards for this booster, because I'd drawn all these promo cards years ago! They've been popular, but tough for some fans to track down. Worry no more! Steve Jackson Games has taken a dozen of the most popular promo cards ever released, and made a new booster pack out of!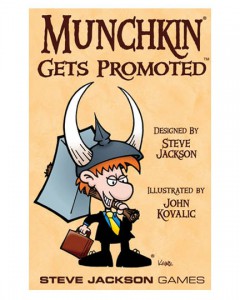 Man, I TOTALLY forgot that I'd drawn some of these! To quote Steve Jackson Games, Once again, you can get the cards you can't get, with the Exclusive Warehouse 23 Munchkin Booster 2013. Here are 15 new cards that we've never released until now. Because we love our W23 customers, and we love their lovely money, we kept these on a secret shelf . . . just for you!
ANNOUNCED: QUACK-A-DOODLE-MOO
GUYS!  I am so very very very very stoked about this one! Out of the Box Games just  announced that they are re-releasing the hilarious, silly, noisy party game SNORTA, with a new name and a new look! QUACK-A-DOODLE-MOO!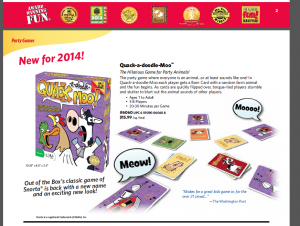 I was given free rein to completely redesign the look of the game, and I had SO MUCH FUN with it. I'm tremendously pleased with how it turned out. I'm trying not to allow this rare moment of self-satisfaction go to my head.
Also big thanks to my great pal Hal Mangold, for adding his considerable design and layout chops to the project!
The game should be out in early 2014, and there'll be demos at the New York Toy and Game Fair! Seriously: CAN. NOT. WAIT!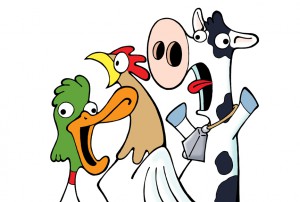 Noticer how the ludicrously fun game Cash 'n' Guns is selling for hundreds of dollars on Amazon? Because it's out of print?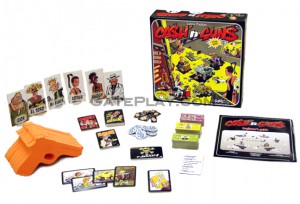 DO NOT BUY THESE MARKED-UP COPIES, because it won't be out of print much longer, Slappy! And guess what? I'm doing the graphic redesign! Yes – yes, sir, I am! And I'm totally pumped about within with Repos and Asmodee on this. There'll be all-new drawings, and an all-new look! But it will remain the SAME SILLY STUPID FUN!
Can't share any drawings yet, but I'll let you know when I can! It's a very rare rare thing for me to be working on a non-Munchkin game, anymore. But I'm really pleased I was able to fit this one into the schedule. And by "really pleased" I mean "giddy as a Japanese schoolgirl!" Cash N Guns is an absolute blast, if you'll pardon the pun.
If  you've never heard of Cash  N Guns, here's a great review from my pals at the Totally Rad Show!


GOT A QUESTION FOR THE HOUSE OF MUSKRAT?
Click here for our handy-dandy online Feedback Form! Please be sure to add your name, and where you're writing from. Or, drop us a line the old-fashioned way, at:
Muskrat Mailbag
Box 45063
Madison, WI 53744
If you're REALLY motivated, send us something!  We love getting cool stuff in the mail!