International House of Updates. Or: I'M ON FREAKING TABLETOP NEXT WEEK! AIEEE!
A couple of heads-ups, for folks who follow my stuff:

HEADS-UP THE First: I am going to be on next week's episode of TableTop.
By which I mean: I AM FREAKING GOING TO BE ON NEXT WEEK'S EPISODE OF TABLETOP! HOLY SHIT, YOU GUYS! I AM LOSING IT HERE! I GOT TO BE ON FREAKING TABLETOP!!!! I'M TOTALLY FREAKING OUT!!!! WHEEEEEE!!!!!!
Ahem. Sorry. Sorry. Pulling myself together, here…
ANY-hoo, the episode includes Wil (obviously), his charming, brilliant, and hilarious wife, Anne, along with the also-charming and also- brilliant and also-LETHAL Emma Caulfield (Buffy, et al). Long story short: OMG, they were all so fracking brutal! Like, "Joss Whedon is in a bad mood and feels like killing off your favorite character" brutal!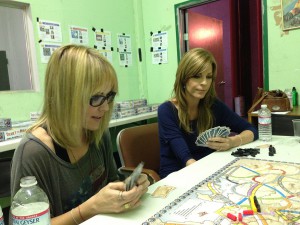 We played "Ticket to Ride: Europe," for which I prepared by coming in dead last with a group of friends the week before, in a practice game. It couldn't even come close to preparing me for what turned out to be the single most intense game I've played all year. Not gonna lie here: I'm still suffering PTSD from it. Also? My "pal" Wil Wheaton, and his whole "Don't be a dick" schtick? APPARENTLY IT DOESN'T APPLY WHEN YOU'RE TRYING TO BUILD A VERY VERY VERY VERY IMPORTANT RAIL LINE THROUGH THE BALKANS!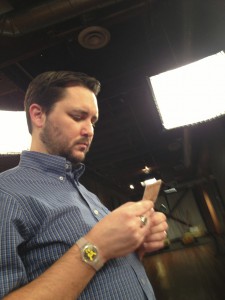 Ahem. Sorry. Sorry. Sorry again. Sorry.
Breathe deeply. Breathe DEEPLY…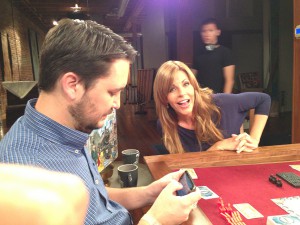 "Brutality, Intensity, and Dickery" is not just the name of my ex-wife's law firm (NOTE: I do not have an ex-wife. I  just like that line), it was also pretty much how the night went. But (and here's the important bit), it was an utter, awesome blast, and it was such a pleasure and an honor to be there. I'm huge fan of the show, as you all know, and the care and dedication with which it's created was astounding. I'll blog about the experience once the episode goes live, and the results are known.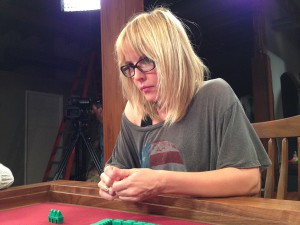 Maybe, one day, I may even feel like talking to the others, again.
Maybe.
Once the Night Terror goes  away.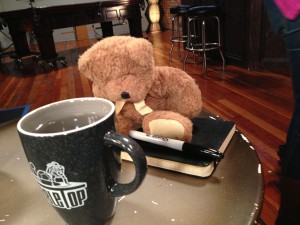 WHEATONNNNNNNNN(s)!

HEADS-UP THE SECOND: The unfeasibly talented Len Peralta is running a Kickstarter for the fifth "season" of Geek A Week, the terrifically fun trading cards based on big-league nerds.
Well, big-league nerds, AND ME!
Yup! After years of staring with murderous envyrage at anyone lucky enough to have their own card, I will be a Geek A Week geek!
Right now, Len is well over 25% funded, but every little bit helps! So to help fight the good fight – and to ensure I get my card – I created coolest, nerdiest thing I could think of, for Geek A Week Kickstarter exclusive.
Here it is! The DINOSAUR ZOMBIE NINJA ROBOT PIRATE ALIEN FAIRY MAGIC-USER RAAAAAAARW print! Available at the special $75 EXCLUSIVE KOVALIC PRINT pledge level, or as a $20 add-on to any other pledge level.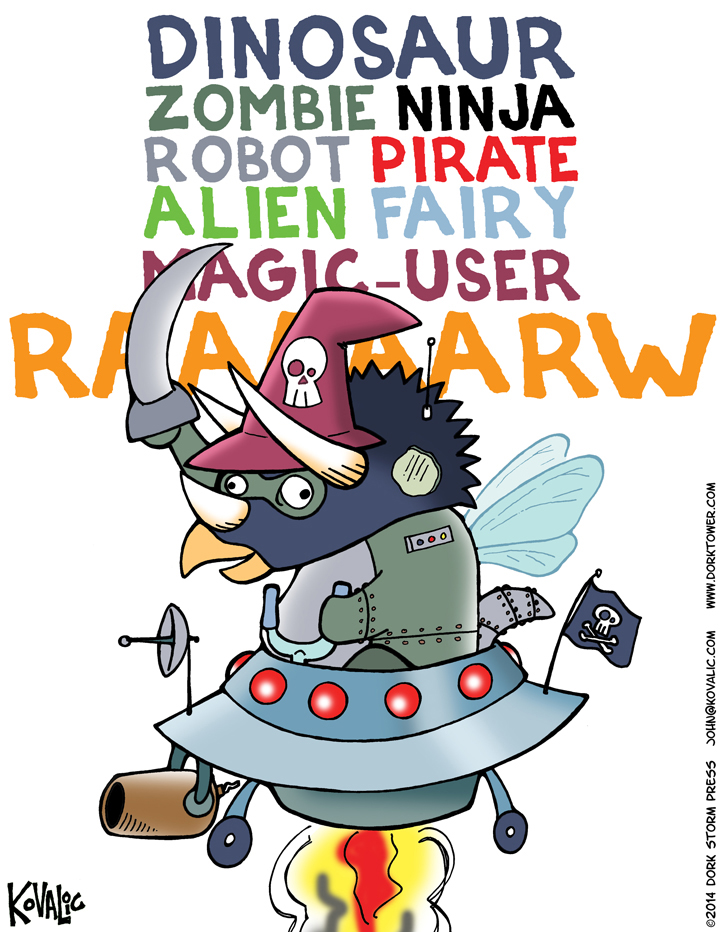 Anyway, Len is great, Geek A Week is great, and I'm really excited about the DINOSAUR ZOMBIE NINJA ROBOT PIRATE ALIEN FAIRY MAGIC-USER RAAAAAAARW print! I want one myself!
Please consider a pledge. I want to say "to help Len," but really I mean "to make me a Geek A Week geek!"
RAAAAAAARW

GOT A QUESTION FOR THE HOUSE OF MUSKRAT?
Click here for our handy-dandy online Feedback Form! Please be sure to add your name, and where you're writing from. Or, drop us a line the old-fashioned way, at:
Muskrat Mailbag
Box 45063
Madison, WI 53744
If you're REALLY motivated, send us something  We love getting cool stuff in the mail!