Posted by John
Oh! Hey! Hi there! Long time no etc. etc…
FIRST BIT OF BIG NEWS! This coming Saturday, the 16th of November, I'm going to be popping into GO PLAY, a mini-convention here in Brisbane, Australia. I'll only be able to be here for a short amount of time, over lunch. From noon to 1:30 pm, most likely. Longer if time allows, fingers crossed. Family commitments, you know. THAT SAID if you're in the Brisbane area, please do stop by! I'd be most happy signing any games or comics you wish! They needn't even be mine! This, you see, is my FIRST EVER AUSTRALIAN SIGNING! Pardon that being in all-caps, but I'm so excited about it, I'd add umlauts, if I could!
Location:
Ace Comics and Games,
Shop 18 Annerley Arcade
478 Ipswich Road
Annerley, 4103
Phone/Fax: 07 3848 7362
Now, if you can't make it, I hit the lovely downtown Brisbane annex of Ace Comics and Games, yesterday,and signed a bunch of stuff there: Munchkin; ROFL!; even Mag*Blast. If there's extra stock at Annerly, I'll likely sign a bunch of that for folks who can't make it, as well.
SECOND BIT OF BIG NEWS: OK, Kovalic. What the hell are you doing in Australia all of a ding-dang sudden?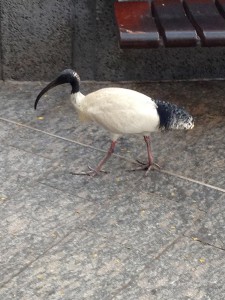 It is true. I am in the Land Down Under. By way of Thailand (where I met up with my parents, which you may have picked up on, if you follow me on Twitter). I'm here visiting my kid sister, who's a Big Important Surgeon at the Royal Brisbane Hospital. Indeed, I'm the only non-doctor amongst my siblings. So if anyone at any arts college with any say-so any damn where wishes to confer an Honorary Doctorate upon this black sheep of the Kovalic Clan, well, I ain't getting' any younger, if you take the hint.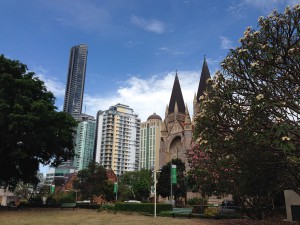 This was going to be pure vacation, no work, to see me start gearing up, rested, for a mighty busy 2014. But a bunch of people who knew I was here (THANKS, Twitter!) asked if I'd be doing any signings. Honestly? It's hard to say "no" when you're in a land thousands of miles from Madison, and heaven knows when you might be back, and people who purchase your stuff half a world away from home ask so very nicely.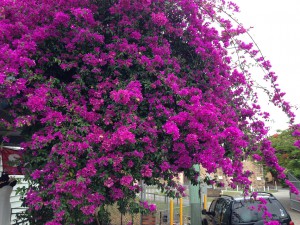 DO NOT GET ME WRONG! I would love to return to this corner of the world. It is stuffed with odd, dangerous animals and innuendo-filled snack foods. ("Golden Gaytime"? "Creaming Soda"? Violet Crumble and Cherry Ripe are Brisbane strippers, right?) Also? I miss my kid sister (the Surgeon) enormously. I hate that my family is spread out all over the world. It gnaws at my gut, the way I assume a"polly waffle" might.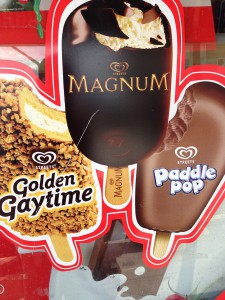 So yes, I am here in Australia for only the second time in my life, and the first time in 25 years. I miss my wife, and Daughter, Age 5, who are both back Stateside. But I will be flying back to them soon. In the meantime I'm surrounded by family I've missed, in a gorgeous city filled with terrific food, great beer, wonderful people, and…yes, it must be mentioned…strip clubs. Many, many strip clubs. The strip clubs seem to have taken the place of the Starbucks you find on every street corner of every city on the planet. Possibly that's because Starbucks is unnecessary here – my god, the coffee is wonderful and plentiful and brewed expertly in the numerous coffee shops that dot the city like cinnamon sprinkled on a latte's perfectly peaked foam. Brisbane smells of coffee and deliciousness and I want it to adopt me. Now!
That's a long-winded way of saying "I love it here," and would adore coming back. And soon.
Make hat happen someone, won't you?
In the meantime, hope to see you Saturday, Queensland!
THIRD BIT OF BIG NEWS: The charity coloring books and Munchkin certificates are almost done! I still haven't blogged about my Insane Charity Bike Ride* yet, and I will, oh trust me on this one, I will. As for the certificates, available to all who pledged, and let them start a game of Munchkin at Level Three, I wanted to do up something really special for all the folks who supported me like mad. So, instead of a simple e-mail certificate, I'm having proper postcards printed up, that I'll sign and mail to everyone who pledged. If I'm not too crazy busy, I'll even sketch on them. The trick will be, when you play it, and start a game at level three, someone ELSE at the table also has to sign it – in ink – so they can't be used again and again. Clever, no? But you won't have to rip it in half or anything.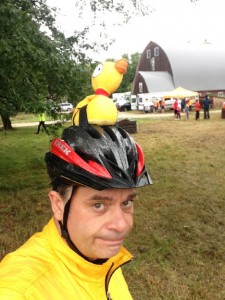 As to the coloring book, right now, it only needs a cover, and it's ready to be uploaded. I'm working with Drive Thru Comics, who will be the source for the downloadable version. It's much larger than I thought it will be, and have a section for the kids, as well as a section for the grown-ups, should they wish.
So anyway, it's midnight, here in the Future I mean Australia. I've not posted much here recently, but it'll take another blog post to explain why, and also to explain why that's going to change. These were the important updates needed RIGHT NOW, and thank you all, you kind, wonderful and very, very patient readers, for putting up with this.
Big things are planned for 2014, and much of the foundation has already been lain.
I've been quiet, but I've not been idle.
*Yes I cycled 70 miles with a duck on my head yeas we raised a lot for charity yes I still have PTSD from the last 10 miles…