If you pop over to the Steve Jackson Games site, you'll notice there is another big Munchkin release this month: The Good, The Bad and the Munchkin 2: Beating a Dead Horse.
"What's this?" you ask.
To quote Steve Jackson Games:
"A Horse Is A Horse . . .
A corpse, of course! The rowdiest crowd of munchkins ever to wreck a saloon is back for more in The Good, the Bad, and the Munchkin 2 – Beating a Dead Horse! Fight new varmints like the Cattywampus or the Eyes of Texas! Ride new steeds like Ol' Plug and the One-Trick Pony! And if all else fails, call in the new Class . . . the Cavalry!"
To be honest, we're working so far ahead on so many Munchkin projects, that I often forget what's coming next – until a Big Box of Goodies arrives from Steve Jackson Games and I open it gleefully. Thank you, Steve Jackson Games!
Revisiting The Good, the Bad and the Munchkin's Western setting was particularly fun – it's been close to four years since I last got a chance to draw Cowboys and Indians and Varmints, so a certain amount of re-learning was necessary. But I had a terrific time drawing them originally, and doing so again was just like riding a bike (or, less anachronistically, possibly a Penny Farthing – a +27 Gol-Darned Ornery High-Falutin' Rip-Snortin' Penny Farthing, with a Sidekick). The twelve-year old in me was thrilled – especially since it also meant I could create the look for a antire new Character Class – the Cavalry!
I try to make each new Munchkin project look even better than any that's come before, and – to my own eyes, anyway – I think I succeeded with this supplement. I spend a lot more time on Munchkin cards these days than I ever did in the past, and try and infuse them all with a silly sense of twisted Munchkinny goofiness.
So here's an exclusive sneak peek at one of the cards from the new set: "The Eyes of Texas" – a Level 19 Monster!
Nowhere is the game much sillier – or deadlier – than in this card.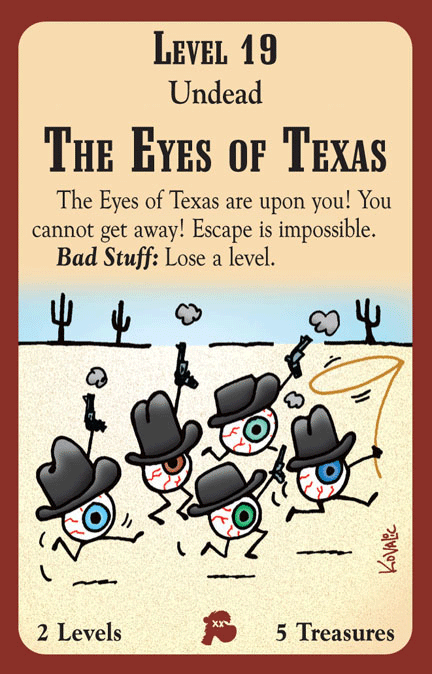 Anyway, the game should be at cons and game stores soon, if it's not there already. I hope you have fun with it! I sure as rootin' tootin' heck did!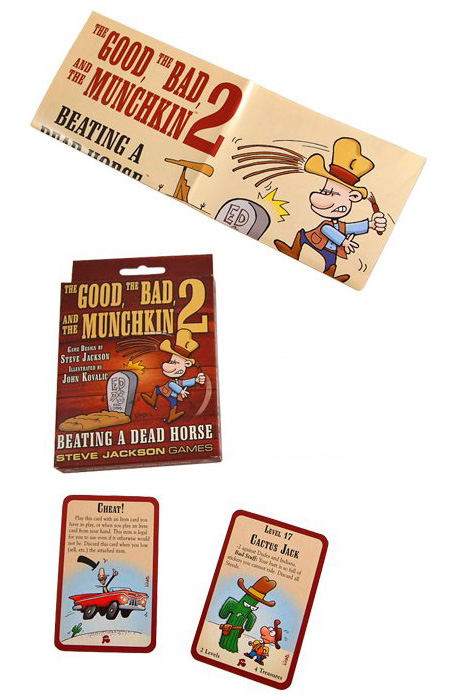 The Good, The Bad and the Munchkin 2: Beating a Dead Horse – 56 cards. Suggested Retail Price $10.95 Stock #1486 UPC 837654321454
Got feedback? E-mail me at this link: John