Muskrat Ramblings
Historicon and on and on
posted by John

Historical Miniature Gaming was my first great gaming love. So when HISTORICON asked me to design a mascot for them, last year, I was thrilled.
Actually, "thrilled" is an understatement: I was full-on Muppet arm-flaining over-the-moon amazed. I was at once gob-smacked and boggled.
I was, as they say, right chuffed.
Historical Miniature Gaming is the Alpha and the Omega for me – especially if I'm playing 15mm Greeks. I have Trajanic Romans and Mongols (Armati); I can field the British 8th Army (Flames of War); I can take to the skies with the Flying Circus (Wings of War); My 25mm Normans can skirmish with the best of 'em (Battlelust); and the list goes on and on.
I love Historical Miniature Gaming in the same crazed, passionate way that I love punk rock and Isaac Asimov's "Nightfall" – the discovery them, entire new worlds opened uo for my little teen self.
Anyway, to cut a short story long, HEEEEEEEERE'S "Terry," the Mascot I designed for Historicon: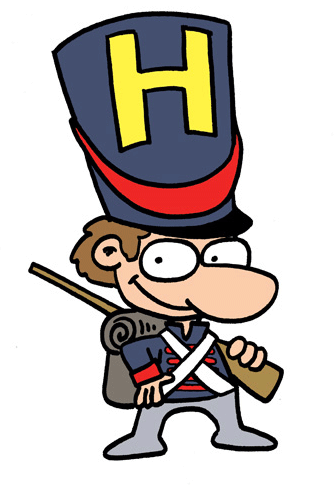 Terry is named punnishly, mostly ('His-Terry-Con'). But in my mind, it's also my tribute to the great Terry Wise – whose writing (see Guide #24 here) was a huge influence on my gaming in the 70s and 80s. And it makes me smile that I can give just a tiny bit back to the memory of the man whose books I could never get enough of.
I've only been to Historicon a few times – it's a 15-hour drive, from Wisconsin. But when I was there, it was like Disneyland and the Imperial War Museum all rolled into one amazing smorgasbord of leaden (and sometimes plastic) glory – it's Splash Mountain meets Operation Sealion; Big Thunder Mountain meets Big Bertha; Historicon is sheer old-school gaming goodness.
I'm guessing I lost most of my games (I pause a moment to honor the memory of my beautiful, doomed Albatross D.III pilot – let's call him "Fried Fritzy" – who lacked the skill to Immelman as deftly as I'd compelled him to), but I don't care. I HAD A BLAST. (Though so did Fritzy, but not in a good way)
By the way, I also created this ad, that should start running on the Dork Tower homepage, soon. I'm not getting anything for this, I just want to plug a wonderful con and the great folks who do so much for Historical gaming.

If you'd like to help support the Grandaddy of Gaming, too, feel free to grab the ad and run it on your site, if you have one. Link it back to http://www.historicon.org/ and I'd be ever so grateful.
I was an absolute honor to be asked to do character design for Historicon – I won't be there, this year, sadly (nor will I be at Origins or Gen Con, by the way – far too much work) But I hope to get back there, some year, and push some lead.
Maybe I'll see you across the table?
Just BEWARE THE WRATH OF MY ALBATROSSES, though. You could crushed by one as they plummet from the sky…
Muskrat out,
PREVIOUS RAMBLINGS: SIT ON MY FACEBOOK (PAGE)