THE KICKSTARTER HAS KICKSTARTED! "THE TAO OF IGOR" IS LIVE!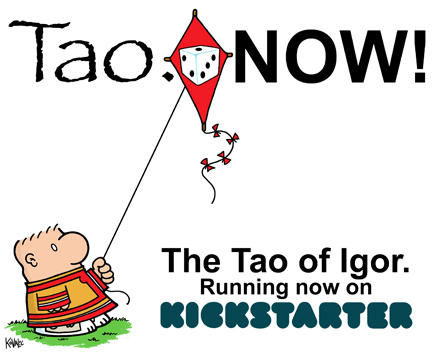 The Tao of Igor: the first new Dork Tower collection in ten years, is on to Kickstarter, NOW. Yes, it's happening! And we're counting down to October 15! If you'd like occasional email announcements leading up to the Kickstarter, just subscribe below! John will also be previewing some of the new pages on the Dork Tower Patreon, as well as posting announcements on Twitter and Facebook. HUZZAH! It must be mine!
NEWS:
Monday, 15.10.18 – 9:30 am is here! And we are live!
Saturday, 13.10.18 – 9:30 am, Monday, October 15, the Kickstarter goes live!
Monday, 17.09.18 – The launch date for the Tao of Igor Kickstarter is set – Monday, October 15!
Thursday, 29.08.18 – Laying out some of the pages. Up to page 161. Roughly 30 or so to go. It's official: the Tao of Igor will be by far the largest Dork Tower collection yet.