John Kovalic Illustration and Design: Portfolio
Contact: john@kovalic.com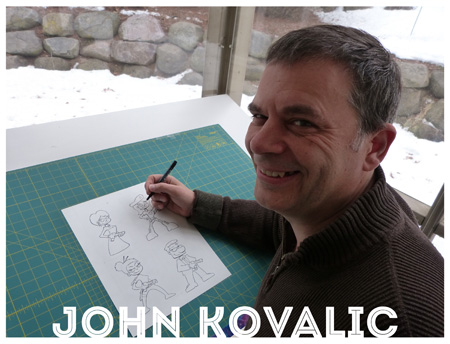 John is a bestselling, award-winning, cartoonist, game designer and writer. Millions of copies of his games and books have been sold worldwide, to all ages, giving his magical, frenetic artwork and unique wit a truly global fanbase.
Games like APPLES TO APPLES (15 million copies sold to date) and MUNCHKIN (4 million) became massive international bestsellers with teens and adults, while APPLES TO APPLES JR, MUNCHKIN WONDERLAND and QUACK-A-DOODLE MOO! remain kids' favorites.
DORK TOWER, his hit independent comic book, sold 500,000 copies. DR. BLINK: SUPERHERO SHRINK, his satirical superhero comic book, has been optioned for both film and television.
John lives in Madison, Wisconsin, with his wife and daughter. In his spare time, he searches for spare time.
Click on thumbnails for larger images. All art published unless otherwise indicated.