About John

John Kovalic's cartoons have appeared everywhere from his hometown WISCONSIN STATE JOURNAL (Madison, WI) to the NEW YORK TIMES and DRAGON MAGAZINE. His creations include the sell-out comic book sensation DORK TOWER and "DR. BLINK: SUPERHERO SHRINK," as well as SNAPDRAGONS, NEWBIES, WILD LIFE, BEACHED, and panel cartoons including MURPHY'S RULES, THE UNSPEAKABLE OAF and others.
A co-founder and co-owner of Out of the Box Games, and a cartoonist for Steve Jackson Games, John has illustrated over 100 games and game supplements, and is at least in part responsible for best-sellers like APPLES TO APPLES (A GAMES Magazine Hall of Fame inductee) , MUNCHKIN, CHEZ GEEK and BLINK. He is closing in on 4,000 MUNCHKIN cards drawn, and boy, are his arms tired.
He was the first cartoonist inducted into the  Game Manufacturers Association (GAMA) Hall of Fame. In his spare time, John searches for spare time.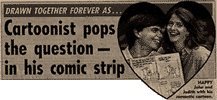 You can also read about how he got his wife into the National Enquirer.

The lovely and talented JUDITH, BTW, is world-famous now that she works at Michael Feldman's Whad'Ya Know