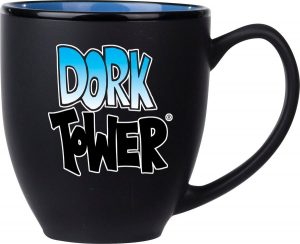 Hey, gang!
With the 20th Anniversary of Dork Tower just a few weeks away, the NEW and IMPROVED Dork Store – the first of three projects over the next few weeks – is ready to launch!
The old Society 6 store will remain, for now, but the official Dork Store itself will try and be better focussed, with cooler items we just wouldn't be able to offer elsewhere.
For example, right now, the Dork Store has:
And there's a lot more coming!
For the launch, Store Guru David has suggested the following promotions – and I agreed:
Any order placed in December will receive a signed 4×6 version of the 20th anniversary print. No need to do anything—all customers will receive this!
Any order of 2 or more books in December will receive a random signed single issue of Dork Tower. No need to do anything—all orders of 2 or more books will receive this!
Buy $100 or more during the first week the store is open and use code DSWEEK1 to receive 15% off your total order! Ends December 10 at midnight! And don't worry—you still get the print!
Here's the 20th anniversary print, by the way: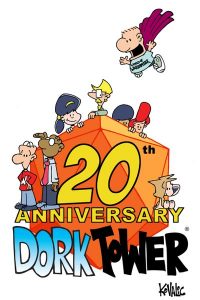 You will note is also the cover of the VERY COOL, very geeky DORK TOWER 2018-2019 calendar! (And every year we will be working to make it DORKIER STILL!)
Signed books and prints are available now, but original art and signed games should soon be available. We'll also be working with Pegasus Games (for ALL the signed games), and Offworld Design (for t-shirts, etc.) in the upcoming weeks, adding new stuff all the time. When I have time for commissions (I do not, at the moment), that will also be available, here.
Anyway, PART TWO of the 20th Anniversary is basically trying to get more strips up! Because what's the point of an online store if there's no new content drawing people to the site? I mean, really, now!
What's Part Three?
You'll see next week