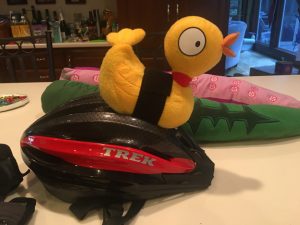 A few days ago, donations for Insane Charity Bike Ride 2017 stopped, almost completely.
For reasons that are perfectly understandable.
Tropical Storm Harvey.
Truth be told, it feels crass, right now, to be raising money for anything except for those suffering along the Gulf Coast.
While the Fair Share Coalition does important work here, for low-income families, and the elderly, down south there are folks who've suddenly lost everything.
People are rising up, and helping those in desperate need in Louisiana and Texas, and it's amazing. Money and aid are streaming to where it's most urgently required.
As far as the Charity Bike Ride goes, there's just seven days or so left for fundraising, and I fear my efforts will fall short – possibly badly short – for the first time since I started doing this event, five years ago. Again, though, the circumstances are absolutely understandable. Many people are giving all they can, to food banks and shelters in Houston and elsewhere, where the need is dire. It is what must be done.
The Army of Dorkness has been a huge help in raising money for Bike the Barns and the FairShare Coalition, over the years, bringing good food from local farms to families in need – and every little bit does help.
However, looking at my 2017 fundraising effort brutally honestly, it seems doubtful indeed that Insane Charity Bike Ride 2017 will make it to its $12,500 goal.
Equally honestly, I want and need to do more: to help not just this cause, but also in any way possible those in need along the Gulf Coat.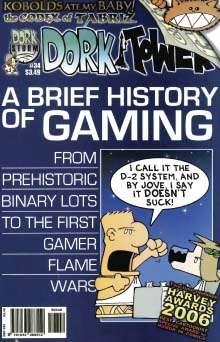 To that end:
From now until the end of October, ALL proceeds I receive from the Dork Tower Society6 Store, along with my Drive Thru Comics sales, will be donated to the Houston Food Bank. And there's a big sale coming up at Society 6, meaning free worldwide shipping.
I've added more to the swag you'll get for helping Insane Charity Bike Ride, as well! All donation levels now get a PDF of the Dork Tower "A Brief History of Gaming" special – so even if all you can afford to give is $1, you get something back.
Also, all donation levels that receive physical rewards will get a signed Munchkin Bookmark, on top of everything else. And a REALLY nice Munchkin Bookmark, too! Spoiled only by my appearance – and signature – on it!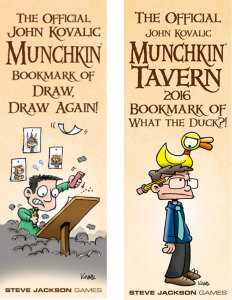 It's an odd feeling, being so close to the ride, but so far away from the goal. I mostly feel cruddy that I'm not doing all I can, worried that I'll let people down, and thinking that I could and should be doing more.
But it's not a time to feel cruddy: it's a time to get to work, and help people who need it.
Today, a donation came in, from an internet friend that, honestly, I know can ill-afford it. It meant the world to me.
It's kind of a cliche to say that "every little bit helps," but it does. Oh, heavens, it certainly does.
Thank you all for all the help you give, wherever and to whomever.
These are odd, awful times – but you all make it so much better.
You people are great, and you inspire me.
Let's keep doing good.
-John