Rabbit rabbit!
Happy July, and hello to this little guy who appeared in our backyard.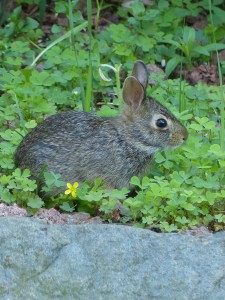 It's been an incredible week of high temperatures and heavy storms, flooding and tornadoes that were too close for comfort. Nobody hurt, fortunately. But it's left Daughter, Age 5, unsettled.
I'll take the blame for that.
Several months ago, at a charity auction, I spied a gift package up for bidding: it was a Local TV Weatherman who would come to a classroom, talk about the weather, and bring along a pizza party.
"Splendid idea," I thought to myself. Seeing that nobody else had bid on it, I jumped in at the last minute and snagged it for its starting price, $100. "Daughter, Age 5, and her class, will love this. What a clever daddy I am."
Long story short, apparently  Local Weatherman came to the class, and regaled the kids with white-knuckle tales of tornados and extreme storms.
Daughter, Age 5, has been terrified of the weather ever since. And the storms that rolled through south-central Wisconsin these last few days have been doozies.
Last night, though, around sunset, there was a break in the storms, creating some of the most amazing colors I've ever seen splashed across the sky. Brilliant oranges in the west and north, dazzling purples in the east and south. There was even a rainbow, if you looked hard enough. The city was bathed in science-fiction hues that these few photos do poor justice to.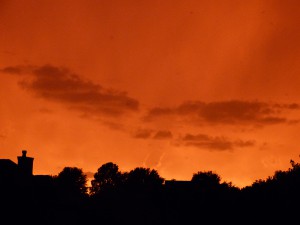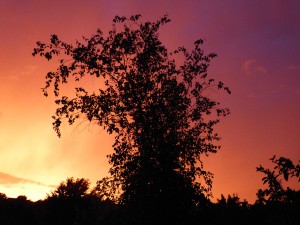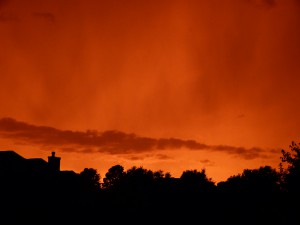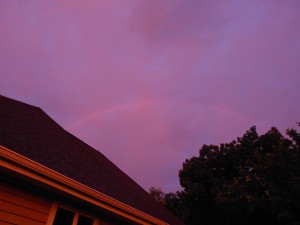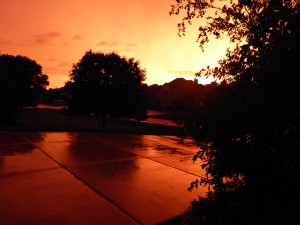 The storms stopped overnight. The sunset wasn't quite the bookend for them, though it should have been. The temperatures have fallen back to the 70s, and – according to a certain Local TV Weatherman, anyway – the next week looks to be one of those unbelievably perfect summer weeks Walt Whitman would write poems about.
Welcome to July, everyone!
PS. James Stowe, the ridiculously gifted cartoonist behind Sidekick Quests and other endeavors, was scheduled to run some delightful Dork Tower guest strips this week. But Facebook's latest kerfluffle happened, and I wanted to run some cartoons about it right away. So James' fantastic guest appearance (you guys will LOVE it!) has been pushed back to next week. In the mean time, head over to his site and check out the goodness!