DORK ADDENDA
I'm in Las Vegas this week, for the GAMA Trade Show, so I'm running some gaming-heavy strips from Game Trade Magazine, and trying not to lose too much money on quarter video poker.
Not everyone knew about the games I talk about in the strips here, here and here, so I added some info below the comics.
To me, this made them look a little bit like paid advertisements. Which they are not*. They're just me, riffling on some great games that I truly do love. Which I think most of my readers would love, too.
So, in case you're unfamiliar with the tabletop games I'm talking about this week, I've moved the info here.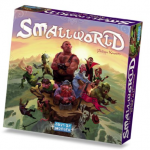 SMALL WORLD:
Here is what the Small World game, by Days of Wonder, looks like. I love this game. I also suck at it. Hard. I haven't figured out the best strategies for the various Race and Special Power combos. But I have a blast every time I play.
Here is the Tabletop episode where you can see it being played.
Your Friendly Local Game Store** should have it! If not, you can find it at Amazon and elsewhere.

QWIRKLE:
Gonna be honest here – I'm sort of shocked that a lot of folks had never heard about this easy, elegant "gateway" game.
Here's what Qwirkle, by Mindware Games. looks like. It should be available just about anywhere. I'm pretty sure it's in the mass market. It's a terrific little game best described as "Scrabble with shapes and colors." But without board. And yes, sometimes the layout gets awkward.
Here is the Tabletop episode where you can see it being played.
Once more, most Friendly Local Game Stores should have it! If not, you can find it at Amazon and elsewhere.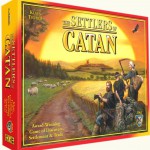 SETTLERS OF CATAN
OK. Not gonna lie, here. If you're unfamiliar with Settlers of Catan, you may be reading the wrong strip.
That said, it's everywhere. It's ubiquitous. It's one third of what I consider the Holy Trinity of tabletop gaming***. It's from the fine folks at Mayfair Games (in the USA), and you really need to own this. No. Really. GO GET IT NOW!
Here's the TableTop episode where it was played.
Again – available from Friendly Local Game Stores everywhere (LITERALLY everywhere), the mass market stores, as well as Amazon and other online merchants. Seriously, you can't swing a dead sheep without hitting this behemoth of board gaming.
Seek it out. You will be enthralled by it.
– John
* Which is not to say that if any of the said game companies put me on their mailing lists for goodies I mean review copies that I would be above that sort of thing. You know. Sent to the address below. Hint hint hint.
** Thanks to Steve Jackson Games for having a terrific Local Store Locator!
*** Ticket to Ride and Carcassonne are the others, to me.

GOT A QUESTION FOR THE HOUSE OF MUSKRAT?
Click here for our handy-dandy online Feedback Form! Please be sure to add your name, and where you're writing from. Or, drop us a line the old-fashioned way, at:
Muskrat Mailbag
Box 45063
Madison, WI 53744
If you're REALLY motivated, send us something  We love getting cool stuff in the mail!