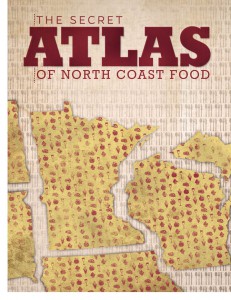 "THE SECRET ATLAS OF NORTH COAST FOOD" MADISON  SIGNING
Posted by John
A while ago, I was asked to contribute a chapter to an exciting new book called "The Secret Atlas of North Coast Food," published by the Heavy Table, and masterminded by James Norton.
I'm a huge fan of Heavy Table – possibly my favorite foodie site in the Midwest – and I love James' work, so I leapt at the chance. I decided I'd write about, cheerlead for and generally champion Madison's South Park Street restaurants.
This coming Thursday, December 12, I'll be signing copies of "The Secret Atlas of North Coast Food" at Madison's Kitchen Gallery, along with my pal Sean Weitner, and Lindsay Christians (Madisonians with other chapters in it) and James Norton hisself. I'll also be handing out samples of my pal Markus' chocolates. They're really quite good, you know.
The event runs from 5 pm to 7 pm, and if pressed, why yes, certainly I'll sign other, non-"North Coast" things. But the book itself is gorgeous, the writing and illustrations are terrific. Look, I'm not gonna lie here – I'm really happy with how my chapter turned out. (I have no pretensions of ever becoming a food writer again, but I really wanted to make my little bit of this good.)
So, come on down, hang out, have some chocolates, get some stuff signed! Hope to see you there!
The Kitchen Gallery, Dec. 12, 5-7pm: Mini Food Festival with The Secret Atlas of North Coast Food 
(free; includes samples from local purveyors)