Hey, all!
My apologies for things being a bit quiet on the Dork Tower front this month. That's about to change. But there have been some giant things going on. And one of them is coming up! I'm having a party at Pegasus Games in just over a week! Hope you can come along! There'll be GAMING! And PIZZA! And CAKE!
Spread the word! Bring pals! Hope to see you there!
Did I mention PIZZA AND CAKE? – John
"ROFL!" Game release party!
WHEN: Saturday, September 14
TIME: 4 p.m. to 7 p.m.
WHERE:
Pegasus Games
, 6640 Odana Road, Madison, WI 53719, (608) 833-4263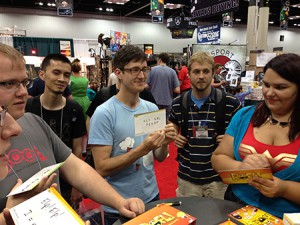 Celebrate the international release of the acclaimed "ROFL!" party game with its creator, Madison's own John Kovalic! There'll be gaming, pizza, cake and door prizes aplenty, along with discounts on all of John's games! John will be autographing anything he's had a hand in creating, including Apples to Apples, Munchkin, Dork Tower or any of the 100-plus games he's worked on!
"ROFL!" is published by Cryptozoic Entertainment of Lake Forest, California.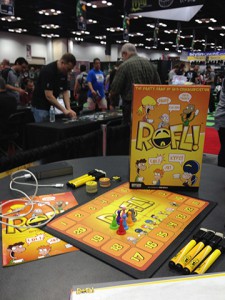 Advance praise for ROFL!
"This is an EXCELLENT party game. This is a really good idea…the game is a lot of fun! A lot of replayability." – Tom Vasel, The Dice Tower
"ROFL! is the perfect party game for gamers and civilians alike!" – Robin D. Laws, award-winning game designer
"ROFL! is something unique: a genuinely new, accessible take on word games." – Brett Myers, award-winning game designer
"(A) super new fun board game" – Rob Thomas, the Capital Times
"Highly recommended. It's a great family or party game. (ROFL!) is perfect." – Going Last Podcast
"A great new game that's a bag-o-fun!" – Ken and Robin Talk About Stuff Podcast
"A spiritual successor to classics like Charades and Pictionary." – Hyde and Geek
"ROFL! is a seriously fun time. Cryptozoic has a real winner on their hands. The laughs were rolling." – Puzzle Nation