Don't think of it as a mug…think of it as a Dice Cup! To hold all your dice. That hate you.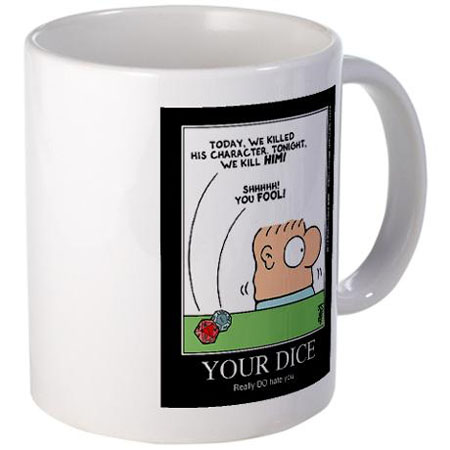 ****
I will probably regret suggesting that someone on Twitter should start up an @WisconsinDalek account. But to help it along, I photoshopped this.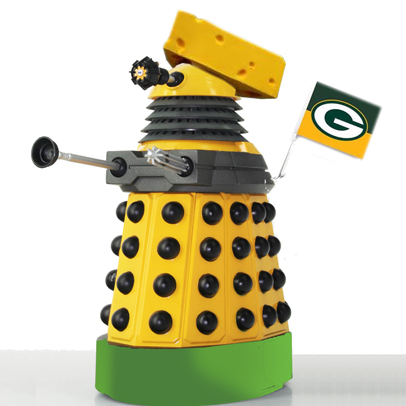 BTW: I'm @Muskrat_John on Twitter. Follow along, won't you? I promise not to live-tweet TOO many episodes of "Holmes and Yoyo."
****
I'll be a guest at Geek*Kon, a great and growing local convention, this weekend. If you want to catch me, I'm on a few panels, and will be milling about the con much of the rest of the time.
Indeed, the guest list is grand (Elaine Cunningham, Caitlin Glass, Mike Stackpole, and more), and studded with good friends (Mike Stackpole, Bill Bodden, Matt McElroy, Monica Valentinelli, Aaron Pavao, and more). Matt McElroy will be selling the Dork Tower and Dr. Blink trades in the dealer's room, at the Flames Rising booth. Huzzah!
The program book has been posted online. Click on that link to read the PDF! In the meantime, here's what my schedule looks like:
Friday, September 7th
3:30pm-4:30pm – Small/Indie Press Publishing panel
5:00pm-5:30pm – Opening Ceremonies
8:00pm-10:00pm – Gaming with the Guests (Charity Event)
Saturday, September 8th
2:00pm-3:30pm – Digital Publishing vs Traditional Publishing panel
4:00pm-5:00pm – My Geeky Hobbies panel
Sunday, September 9th
1:00pm-2:00pm – Game Creation/Designing Game Mechanics panel
2:00pm-3:00pm – Live Action Word on the Street
3:00pm-4:00pm – Closing Ceremonies
If I can get the latest prototypes done in time, I may have demo versions of ROFL! and Double Feature with me, as well.
– John