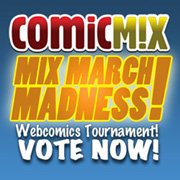 Right…so so DORK TOWER made it through to round two of the March Webcomics Madness.
After eking (should that be "EEK-ing?) out a win over Cucumber Quest, we're up against the behemoth – literally AND figuratively – of the most wonderful Dinosaur Comics (one of my favorites).
Vote, why don'cha? (It's the last bracket of the first dividion).
Voting ends Friday at midnight.