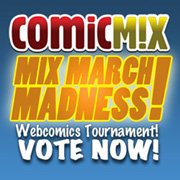 Right…so apparently some silly person nominated Dork Tower for the Big Dance, and I'm up against the very good Cucumber Quest in the first round of March Webcomics Madness.
Me? I'm just glad I'm not in the Heavyweight – I'm sorry, I mean "Moldoff" – division. You know, the one that hosts PVP, Penny Arcade, Diesel Sweeties, AND Sluggy Freelance? Oooft. Though Girl Genius and Dinosaur comics (amongst others) in my division? DOUBLE "Oooft."
Vote, why don'cha? (It's the last bracket).
Voting ends Friday at midnight.
****
OK, so I'm having to skip the GAMA Trade Show in Vegas, due to the insane (but absolutely achievable) MUNCHKIN APOCALYPSE deadline.
The good news in all this is that I've been able to add MAKER FAIRE to my upcoming appearances.
May 19, 20 2012
I'll be with the WIRED Geek Dad booths!
San Mateo Event Center
2495 South Delaware Street
San Mateo, CA 94403
The Geek Dad folks took me to Maker Faire for the first time last year, and I had an absolute blast. I'm very much looking forward to retuning to this wonderful, crazy event. It's inexpensive, and VERY family-friendly. If you're in the area, please stop by and say "hi!"
Wired's GeekDad – speaking of – has just started a new Community site, and they'd love you to join! GeekMoms and just plain Geeks all welcome, too!