Muskrat Ramblings
Updates! We gotcher updates!
posted by John

Life's been exceptionally busy, and the one thing to suffer most has been this blog. Sorry for being out of the loop, for a bit. Anyway, long story short, that's why this week, I'm running some Classics at DorkTower.com.
It's also why I didn't really plug DORKSTOCK VIII that much. Which bites. But it was great fun. As was Neil Gaiman's House on the Rock Halloween soiree, "A Gathering of American Gods."
I was hoping to go as Czernobog, the Slavic god (with the hammer) from American Gods. But the time crunch meant I had no time at all for costuming. So instead, I went as Neil. Which was a little lame. Especially compared to the Lovely and Talented Judith's Lakeside, WI "Dunk the Klunker" victim (again, from American Gods). But at least ONE very drunk lady mistook me for Neil himself. Which was both a little awesome but also very, very sad, at least for her. Trust me: seeing the costume, she had to be VERY drunk.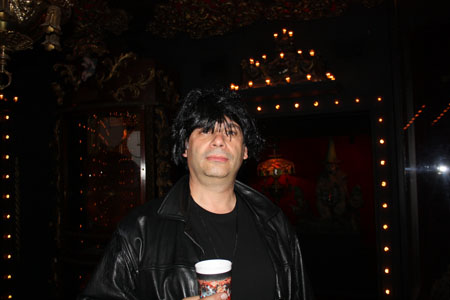 This is the closest anyone got to a pic of me with Neil, who makes an AMAZING Dr. Who, BTW.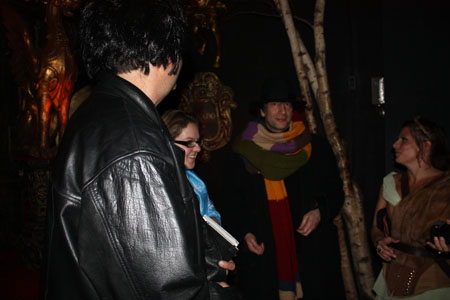 This was the first time I'd been to the House on the Rock, and the Carousel and the Mikado room were all they ere cracked up to be. That the Halloween party was IN the House on the Rock itself was an amazing surprise. That I found a drink Station where they were serving Estancia Cabernet in 16-oz mugs was merely a bonus.
OK. On to much-neglected announcements. More to come soon.
****
The good news is, MUNCHKIN ZOMBIES is done! I spent most of October working on that, and even brought it in a week ahead of deadline. I'd been hoping to provide more comprehensive updates on its status here, over the course of the month. Instead, I spent the whole time drawing.
But Steve and I did provide some designer/artist notes over at GeekDad.com
MUNCHKIN ZOMBIES PREVIEW ONE is HERE
MUNCHKIN ZOMBIES PREVIEW TWO is HERE
MUNCHKIN ZOMBIES PREVIEW THREE is HERE
MUNCHKIN ZOMBIES PREVIEW FOUR is HERE
MUNCHKIN ZOMBIES PREVIEW FIVE is HERE
****
Mike Stackpole isn't just one of my favorite authors, he's one of my favorite people. So it was a lovely surprise to find out that his new superhero noir novel, IN HERO YEARS…I'M DEAD (full of action, adventure, satire and fun) contains a Doctor Blink: Superhero Shrink cameo. The good Doctor is mentioned in passing for having diagnosed a PTSD-like condition among retired superheroes.
At $5 to download, IN HERO YEARS…I'M DEAD is economical entertainment for comics fans. A free first chapter can be found RIGHT HERE.
****
Speaking of Dr. Blink – do you know her now has his own Twitter feed, @DrBlinkShrink. It can be found at https://twitter.com/DrBlinkShrink. Follow him, should you wish nuggets of advice, such as:
You would think with great power would come great psychiatric health benefit plans, but believe me, you would be wrong.
Dear superheroes: masks are for hiding your identity, not your feelings.
Not every Telepath wants to read your mind. Why waste the power when they could just read your twitter feed?
Supervillains are like lovers: sometimes they tie you up & taunt you because they like you. Sometimes.
If you're changing into your super-hero costume in public and DON'T have super-speed, you're just being an exhibitionist.

****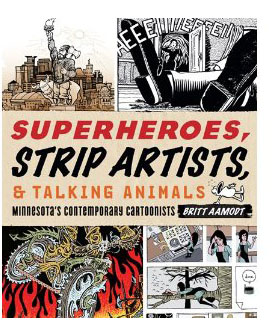 Everything's coming up Dr. Blink, as Christopher Jones and Melissa Kaercher, Team Blink's artistic duo extraordinaire, are featured in a new book, "Superheroes, Strip Artists & Talking Animals: Minnesota's Contemporary Cartoonists," by Britt Aamodt.
It's s grand book, and actually features a few of my pals.
Here's hoping a Wisconsin companion book is tackled, one day.
****
DORK TOWER HOLIDAY WRAPPING PAPER is now available at the GAMINGPAPER.COM website.
It should also be available soon from Friendly Neighborhood Gaming Stores near you, as it's been solicited by Alliance, Diamond and ACD distributors.
Does this make me happy? Yes. Yes, it does.
Does it make up for the fact that Louisa said "Charlie Brown" and "Snoopy" before she muttered "Carson the Muskrat."
Only time will tell…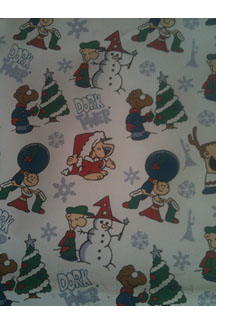 Muskrat out,