Muskrat Ramblings
April 23, 2010
Posted by John
Here's the "It's Happy Thulhu" 'toon on its own, with the detritus removed, for those who wish such things.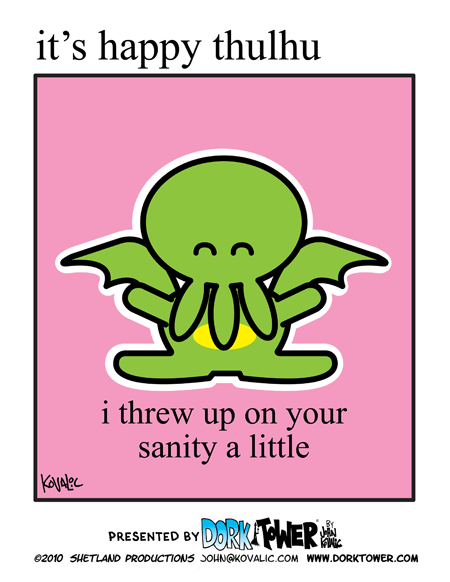 BUT THAT'S NOT ALL: Since people asked: high-res HAPPY THULHU POSTERS, free for download! Spread the fuggly word
CLICK HERE for the HAPPY THULHU POSTER in JPG FORMAT
CLICK HERE for the HAPPY THULHU POSTER in PDF FORMAT
BUT THAT'S STILL NOT ALL!
Offworld Designs is doing up HAPPY THULHU T-SHIRTS,. They should be done in a couple of weeks, and Offworld's offering a pre-order discount:
PREORDER DISCOUNT CODE: prethulhu All lowercase. Good for 10% off of everything in your order until 5/9/10 at Midnight.
Click here for the Men's cut T-shirt.
Click here for the Ladies' cut T-shirt.
Phew.
****
OK. Some all-too-brief announcements on a few projects of mine that are OUT NOW: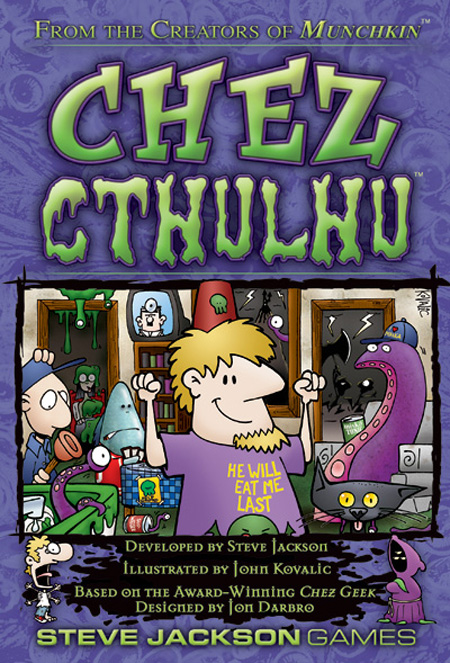 Chez Cthulhu brings the horror of Lovecraft's Mythos right into your apartment . . . as if the leftovers from the Pizza with Absolutely Everything weren't bad enough. Work your job – will you be a Morgue Janitor, a Sanitarium Guard, or a Gravedigger? Buy things to give you Slack, like a comforting Straitjacket . . . or some Friendly Tentacles to make your day a little brighter. Invite people over to your room . . . and sacrifice them! And Nookie . . . don't forget the Nookie. Preferably without the Ectoplasmic Slime.
MY LITTLE CTHULHU GLOW IN THE DARK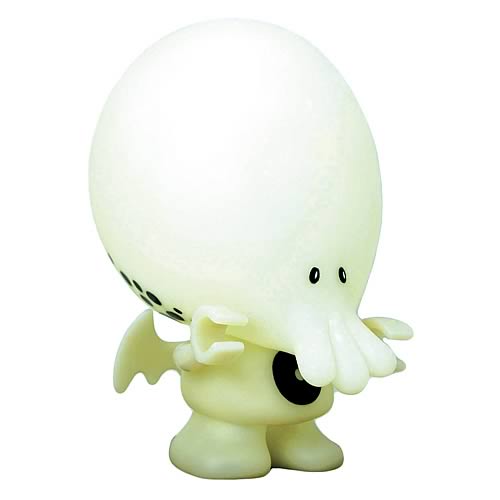 The "Great Cute One" has risen from beneath the ocean's surface to give humanity tentacle hugs and gaping maw kisses! This 8″ vinyl toy, created by John Kovalic (Dork Tower) also comes with two Little Victims that fit in My Little Cthulhu's snuggly grasp—and also pull apart to show their yummy red insides! This edition features a Glow-in-the-Dark phosphorescence, perfect for instilling insanity in your friends and loved ones at all hours of the night!
MY LITTLE CTHULHU GLOW IN THE DARK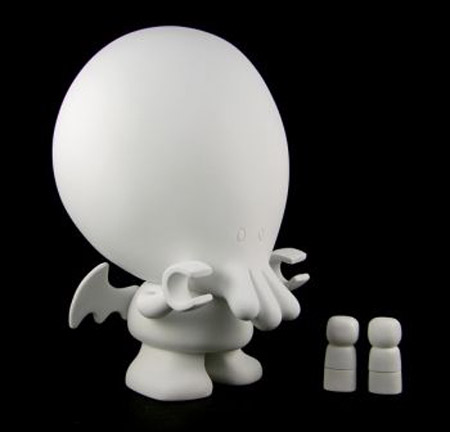 Now you can make it yours! The "Great Cute One" has come to give humanity tentacle hugs and maw kisses—but this time, you get to decide what he looks like! Each 8″-tall blank vinyl figure comes with 2 blank DIY Little Victims for you to customize as well! Designed by John Kovalic (creator of Dork Tower) the Do-It-Yourself My Little Cthulhu will bring out the artist in you!
NEXT WEEK: New stuff I've been up to that DOESN'T (necessarily) involve Great Cthulhu!
– John