Muskrat Ramblings
February 16, 2010
The Shills Have Eyes
posted by John
This Saturday, I'm to be a "celebrity waiter" for the United Cerebral Palsy of Dane County's annual Celebrity Banquet and Silent Auction.
What this means is that, for $90, you can get a very nice meal, support a great cause, and have the chance to get soup spilled on you by me. (It also means that Madison stretches the definition of "celebrity" the way Plastic Man stretches his spleen, but it's very kind of them to have me along nevertheless).
This is the event where I met the Lovely and Talented Judith, all those many years ago. Seventeen, to be precise. So I like to support it as best I can. Spilling soup on people is a start, but there are also lots of games donated by Out of the Box and Steve Jackson Games up for the silent auction, as well as Dork Tower collections and Dr. Blink stiff. As well as lots and lots of things to bid on that people will actually have…you know…use for.
Did I mention there'd be soup?
****
The "Meat Is Murder: QUICK! Eat the evidence" t-shirts are done, and available from Offworlds Design in both men's cut AND women's cut version. PLUS: sizes up to 5XL (ie, "gamers cut.")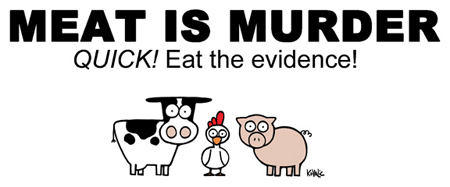 Here's the coolest thing, though: OffWorlds has ALL their t-shirts on sale this month. If you use the "presdaysale" code (it's case sensitive, so be careful), you get 25% off your ENTIRE order, now through February 28! That includes every single Kovalic t-shirt they do. Even the few remaining clearance ones, priced at $5!
(Sorry about the hight postage overseas, btw. With luck, these will be in European distribution channels soon, so they should be more affordable in the Old World one day…)
****
Many, many sightings of the new Glow In The Dark My Little Cthulhu.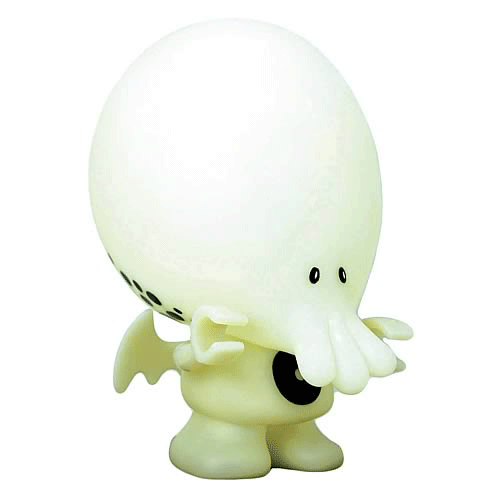 I have yet to hold, see or love (ewwww) one. So I'll just have to take people's words on this.
But my, oh, my, how spiffy they look. Wonder how their Little Victims turned out?
****
Speaking of stuff of mine I only know about via hearsay:
The good folks at Paizo.com (along with a few others) are selling the Ultra-Rare White DIY Muthos Buddy.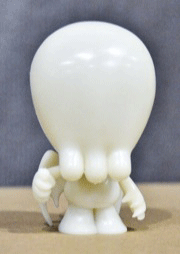 If you have one, please don't tell me. It will only make me hate you with the fire of a thousand burning suns.
At least until I get my own in…