Today is Scott "Igor" Olman's birthday!
Scott's my good buddy, on whom Igor is loosely based.
I say "loosely," because if I wrote what Scott actually gets up to in a game into the comic strip, nobody would ever believe me.
Yes, that's right: I tone down Igor.
Happy birthday, Scott! And "HUZZAH!"
****
Announcing…
Designed by Steve Jackson – Illustrated by John Kovalic
56 cards. – Suggested Retail Price $9.95
Stock #1460 – ISBN 978-1-55634-786-3
In Production
You Asked for It!
A munchkin can never have enough good cards . . . so we bring you . . . More Good Cards!
In this small but mighty expansion, you'll find the cards that you, yes, YOU, asked for in our online survey.
* More Wandering Monsters! The best from Munchkin Blender, with new art, along with the brand new . . . And Its Little Friends.
* More Monster Enhancers! New ways to beef up the critters your opponent is facing.
* More Cheats! More copies of the classic Cheat!, plus the TRULY abusive Cheat With Both Hands and Cheat Like There's No Tomorrow!
* More Curses! Don't Call Me Shirley from Blender, and two all-new cards, diabolic and hilarious!
* More Wishing Rings! Actually, just one. We wouldn't want to spoil too many of those Curses, would we?
Plus potions, items, and item enhancers! Shuffle them all in, or just add your favorites.
Munchkin 7 – More Good Cards is an expansion for the classic Munchkin set.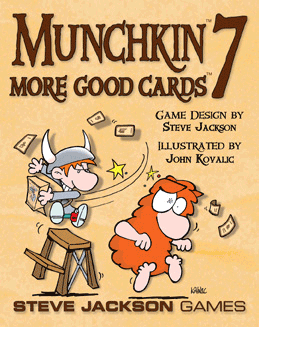 ****
clued me in to this. It's freaking brilliant. Especially if you lead the kind of creative (quote, unquote) life Jeff and I lead:
****
The Tannahill Weavers schedule just arrived this morning.
I might have a shot at the Racine show. Possibly St. Paul…we'll see.
AUGUST 2008
01 FR Dublin OH Dublin Irish Festival, Coffman Park 614.410.4545
02 SA Dublin OH Dublin Irish Festival
03 SU Dublin OH Dublin Irish Festival
07 TH Zumbrota MN Crossings at Carnegie, 320 East Ave. 507.732.7616
08 FR St Paul MN Irish Fair of Minnesota, Harriet Island Regional Park 952.474.7411
09 SA St Paul MN Irish Fair of Minnesota
10 SU St Paul MN Irish Fair of Minnesota
12 TU Racine WI McAuliffe's Pub, 3700 Meacham Rd. 262.554.9695
14 TH Rochester NY German House, 315 Gregory St. 585.271.3354
15 FR West Hartford CT University of Hartford Wilde Hall ( WWUH ), 200 Bloomfield Ave. 800.274.8587 or 860.768.4228
16 SA Brunswick ME Maine Highland Games, Thomas Point Beach, 29 Meadow Rd. 207.443.1165
SEPTEMBER 2008
10 WE South Carthage ME NE Celtic Arts, NE Celtic Arts, 2 Highland Dr. 207.562.4445
11 TH South Carthage ME NE Celtic Arts
12 FR Canton MA ICONS Festival, Irish Cultural Center, 200 New Boston Dr.
13 SA Canton MA ICONS Festival
14 SU Pawling NY Towne Crier, 130 Rt. 22 845.855.1300
17 WE Felton CA Don Quixote's International Music Hall, 6275 Hwy 9 831.603.2294
19 FR Sebastopol CA Sebastopol Celtic Festival, 390 Morris St. 707.823.1511
20 SA Sebastopol CA Sebastopol Celtic Festival
21 SU Winters CA Palms Playhouse, 13 Main St. 530.795.1825
23 TU Charlottesville VA Gravity Lounge, 1301 S. 1st St. 434.977.5590
24 WE Bedford VA Friends of Bedford Public Library, 321 N. Bridge St. 540.586.8911 x18
26 FR Bethlehem PA Celtic Classic, Historic Bethlehem festival grounds 610.868.9599
27 SA Bethlehem PA Celtic Classic
28 SU Bethlehem PA Celtic Classic
I note I'm missing their two most recent albums, Alchemy (2000) and Arnish Light (2003). But after a series of just brilliant recordings in the 90s that came every two years apart, it's a shame there's not more out there that I'm missing. Plus: five years since their last release
What's the story, Tannahill fans?
– John