News ganked from Tasha Robinson (works for the Onion):
ACADEMY AWARD-WINNER PETER JACKSON AND NEW LINE CINEMA JOIN WITH MGM TO PRODUCE "THE HOBBIT"
PETER JACKSON AND FRAN WALSH TO EXECUTIVE PRODUCE TWO FILMS BASED ON "THE HOBBIT"
Los Angeles, CA (Tuesday, December 18, 2007) Academy Award-winning filmmaker Peter Jackson; Harry Sloan, Chairman and CEO, Metro-Goldwyn-Mayer Studios Inc. (MGM); Bob Shaye and Michael Lynne, Co-Chairmen and Co-CEOs of New Line Cinema have jointly announced today that they have entered into the following series of agreements:
MGM and New Line will co-finance and co-distribute two films, "The Hobbit" and a sequel to "The Hobbit." New Line will distribute in North America and MGM will distribute internationally.
Peter Jackson and Fran Walsh will serve as Executive Producers of two films based on "The Hobbit." New Line will manage the production of the films, which will be shot simultaneously.
Peter Jackson and New Line have settled all litigation relating to the "Lord of the Rings" (LOTR) Trilogy.
Said Peter Jackson, "I am very pleased that we have been able to put our differences behind us, so that we may begin a new chapter with our old friends at New Line. The Lord of the Rings is a legacy we proudly share with Bob and Michael, and together, we share that legacy with millions of loyal fans all over the world. We are delighted to continue our journey through Middle Earth. I also want to thank Harry Sloan and our new friends at MGM for helping us find the common ground necessary to continue that journey."
"Peter Jackson has proven himself as the filmmaker who can bring the extraordinary imagination of Tolkien to life and we full heartedly agree with the fans worldwide who know he should be making The Hobbit," said Sloan, Chairman and CEO of MGM. "Now that we are all in agreement on The Hobbit, we can focus on assembling the production team that will capture this phenomenal tale on film."
Bob Shaye, New Line Co-Chairman and Co-CEO comments, "We are very pleased we have been able to resolve our differences, and that Peter and Fran will be actively and creatively involved with The Hobbit movies. We know they will bring the same passion, care and talent to these films that they so ably accomplished with The Lord of the Rings Trilogy."
"Peter is a visionary filmmaker, and he broke new ground with The Lord of the Rings," notes Michael Lynne, New Line Co-Chairman and Co-CEO. "We are delighted he is back for The Hobbit films and that the Tolkien saga will continue with his imprint. We greatly appreciate the efforts of Harry Sloan, who has been instrumental in helping us reach our new accord."
The two "Hobbit" films – "The Hobbit" and its sequel – are scheduled to be shot simultaneously, with pre-production beginning as soon as possible. Principal photography is tentatively set for a 2009 start, with the intention of "The Hobbit" release slated for 2010 and its sequel the following year, in 2011.
The Oscar-winning, critically-acclaimed LOTR Trilogy grossed nearly $3 billion worldwide at the box-office. In 2003, "Return of the King" swept the Academy Awards, winning all of the eleven categories in which it was nominated, including Best Picture – the first ever Best Picture win for a fantasy film. Their production was also unprecedented at the time.
For more information about The Hobbit films, please visit www.TheHobbitBlog.com.
****
Too busy to post much. Tremendously busy, in fact.
So instead, some scans of pics of Les Halles, Paris, 1964.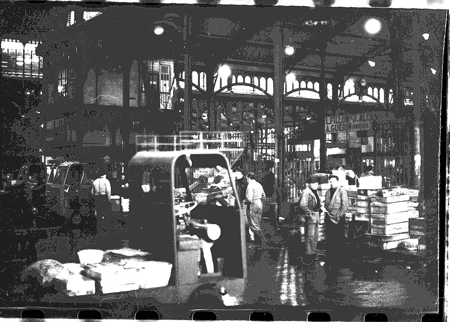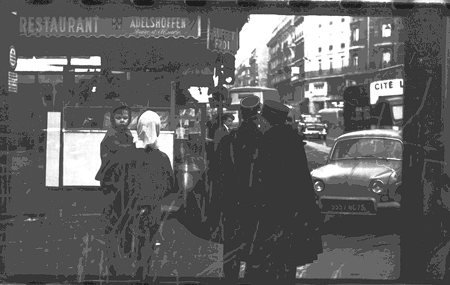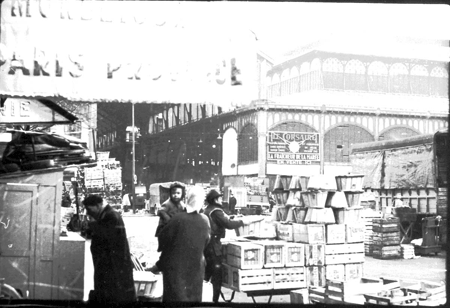 That kid being carried by his mum? That would be me, age 2.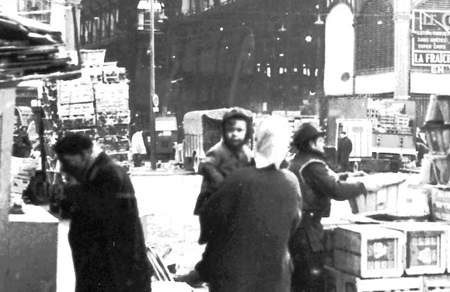 And you wonder why I became a foodie.