OK. I used to be a journalist. I thought this writing gig was easy. I could crank out a thousand words — good words — on deadline, within an hour, and cackle insanely while doing so (cackling insanely is, I believe, important if you want to be taken seriously as a writer).
Then I quit the Wisconsin State Journal to concentrate on cartooning.
And now, five years later, I can't write worth a damn. Fiction, at any rate. Even journalism, my old bread and butter, seems to have fallen butter-side down. The few words I did for Rolling Stone last year were like pulling teeth (and constituted a no-win situation, to boot – "Look at this tripe! And he only was assigned a few words!"/"Of COURSE it's well written! He only did a few words!")
So anyway, I wrote this 3,000-word short story for the Guardians of Order compilation "Path of the Bold." And I think it's not bad…not bad at all…
Then I get asked to provide a blurb for a new novel. It's by Jim Hines, and he's asking folks like Wil Wheaton and myself (or possibly only Wil Wheaton and myself…I should have checked) if we can say something nice about it. Well, I tell him that I've got a TON of projects on my plate, and if he'd like to send me the manuscript, fine, but I certainly can't PROMISE anything, and…
…and the manuscript for "GoblinQuest" (Five Star Books) arrived yesterday in the post office box. And it's good. Confidently written, funny, smooth and an easy, enjoyable read. At least as far as I've gotten in it.
And that depressed the hell out of me. My little short story seems torturous by comparison, and, even though "Path of the Bold" is now in layout, images of sabotaging the presses or kidnapping the editor so I have time to do a fifth or sixth or fiftieth draft skitter briefly through my mind.
Instead, I think I will just send Jim a great blurb, congratulate him, and then maybe make a VERY strong Margarita. Tequila is my friend (more importantly, tequila can't write better than I can).
Anyway, to prove that yes, I once COULD write, here's a little piece I did for Madison Magazine, back in the mid 90's.
Apologies to those who've already read it on dorktower.com. I just need to feel better about my skillz right now. 😉
---
"I was a Teenage Ghost of Elvis's UFO Baby on a Hot Dog Diet:
Enquiring Minds Want to Know"
By John Kovalic
Reprinted from Madison Magazine, August, 1996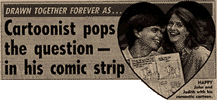 What's that, young feller? You want to find out how you, like me, can end up in the pages of the National Enquirer? You want to know how maybe, juuuuuust maybe, you could appear in America's largest circulation newspaper, behind Burt and Sally's torrid romance, true, but still above that ad for La Toya Jackson's Psychic Network?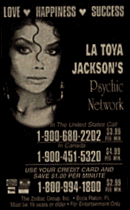 Be warned, young feller: achieving levels of fame akin only to Bigfoot's UFO Love-Child ain't easy. But if'n yer good, and if'n yer lucky, and if'n you've got a heartfelt message of devotion for the most important person in yer life that you want to cheapen and tarnish like a Hot Dog Diet, then the supermarket tabloids may be the place for you.
Pull up a chair and let me tell you how it's done…
* * *
There is an art to making a fool of yourself in public.
Some people are born to it. Others have it thrust on them. Still others have a reporter from the National Enquirer ring them up one lunch hour, simply because they proposed to their fiance in the funny pages.
If you, like me, belong to this latter group, you may be unfamiliar with the concept of "shame." You may also lack the ability to think things through that would otherwise make a rational person go "Whoa!"
Appearing in the National Enquirer falls into this second category. But we're getting ahead of ourselves. For the full story – "CARTOONIST DRAGS DOLL DOWN IN TABLOID DEPTHS – SELF-ESTEEM SEEKS LEGAL SEPARATION" – you have to go back a ways, to Christmas, 1994.
I'd been dating Judith for two years before I finally got it through my thick skull that this was a woman you have to hang onto. She was everything I'd ever wanted in a companion: she was beautiful, she was fun, she was witty, she was devastatingly intelligent and — most important of all — she obviously wasn't choosy. Judith was the one, and I made up my mind to marry her.
As for the proposal itself, I knew it had to be special. It had to be memorable, and it had to be ME. In other words, it had to be something grand and sweeping and ill-conceived. So I chose to do it in "Wild Life," my daily comic strip.
This was a first. As far as I knew, nobody had ever proposed on the funny pages before. Of course, nobody had ever tried to go over Niagara Falls in a barrel lined with shards of glass and rusty razor blades, either. There is a reason why some things are as they are. But like the lyrics to "Billy Don't Be A Hero," from that point on events moved inexorably and painfully to their predictable conclusion: I was going to become a buffoon in a BIG way. The only question was, just HOW big?
Putting the proposal in the comic strip was nothing. That was just a matter of sneaking it past certain editors at the Wisconsin State Journal. The worst that could happen was I could get fired, find myself destitute, start shaking hands with Jack Daniels and end up on State Street, incoherently recapitulating some of the more imaginative biblical predictions to passers-by.
Similarly, the other Big Worry about public proposals of marriage — that is, public rejection and subsequent intense and prolonged public ridicule — didn't overly trouble me, as:
A) I was fairly confident Judith would say "yes," and…
B) by my calculation, if she DID say "no," I'd have at LEAST six months' worth of really boffo material for the comic strip.
Then, on a clear, crisp, February 27, the day before the second anniversary of Judith and my first date, the specific idea for the cartoon crystallized. It was heartfelt, it was honest, it was sincere. It was also going to be read by the entire circulation area of the Wisconsin State Journal, and it would read like this: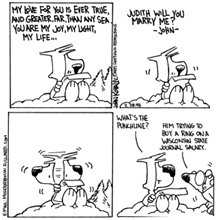 First Panel
Carson the Muskrat (looking at a poem): "My love for you is ever true/ and greater far than any sea./ You are my joy, my light, my life…"
Second Panel
Carson (still reading): "Judith, will you marry me? – John -"
Third Panel
(Silence. Carson looks around, blankly.)
Fourth Panel
Carson: "What's the punchline?"
Snyder the Badger (leaning into the frame): "Him trying to buy a ring on a Wisconsin State Journal salary."
The next day the strip ran.
Although "Wild Life" appears across the country, as well as internationally on the Internet, "local"' strips show up only in the State Journal. And it doesn't get much more local than a proposal of marriage. At six in the morning, the phones started ringing off the hook. Media, friends, and colleagues all wanted the to know what was up. State Journal editor Frank Denton ordered a follow-up story in the papar. It was covered by several radio stations in town – Judith heard it on WMMM-FM (105.5) before she ever saw it in the newspaper.
Then the Enquirer called.
What I could tell from James McCandlish's voice was that he appeared to be a burly Briton of northern descent: a son of the daring Border Reivers, perhaps, those brutal, brave, hard-bitten horsemen who fought off wave upon wave of Scottish hordes in the name of king and country.
What I COULDN'T tell was that he was writing this for the National Enquirer, mostly because he never said he was.
"I'm with Sun News Features," he growled, in a voice guaranteed to make any invading clan think twice about sacking Stirling Castle. "It's a syndicate that places stories across America and Europe, and we're interested in the very unique way you proposed to your fiance."
Many people had been, but mostly around town. Here was a chance to become a Media Geek, er, sorry, I mean a celebrity, in Europe…in England! Sun News Features meant my family in London would read about this. Sun meant my friends in London would read about this. But most of all, Sun meant my ex-Girlfriends in Britain would convulse with rage about this.
I leapt at the chance, never once connecting the phrases "London" and "Sun."
* * *
The August 1 National Enquirer was, apparently, the Romance issue. There was Hollywood romance: "BURT BACK IN SALLY FIELD'S ARMS"; "HUGH GRANT: I HAVE KINKY NIGHTS WITH PRINCESS DI"; "KILLER MOM SUSAN SMITH ROMPED NUDE IN HOT TUB WITH TWO MEN." There was Main Street romance: "After doctors had given up all hope…GIRLFRIEND'S LOVE WAKES HIM FROM 4-YEAR COMA"; "HANDICAPPED MAN WEDS AFTER COURT SHOWDOWN WITH HIS DAD."
And then, on page 20, there was my romance. "Drawn together forever as…CARTOONIST POPS THE QUESTION – IN HIS COMIC STRIP."
Having foolishly forgotten to renew my Enquirer subscription when last it lapsed, I might have missed this were it not for one of my frequent callers at the State Journal (or, as they're known by the technical term, "stalkers") phoning to congratulate me. Of course, appearing in the Capital Times' "Psssst" gossip column the next day might have tipped me off as well.
"So, what's more embarrassing," deadpanned State Journal sportshound Andy Baggott. "Appearing in the National Enquirer or in the Capital Times?"
I went with the Enquirer. As if the headline wasn't bad enough, our photo was cropped into a giant heart-shape ("Happy John and Judith with his romantic cartoon"). A pull-out quote ("'It took my breath away,' said bride-to-be") likewise lent weight to the theme. Lines like "we're the happiest couple in the world" and "he was misty-eyed" were tossed about with gay abandon. It was, in short, as touchy-feely as two hours of Jean Feraca on Wisconsin Public Radio, and I wanted to crawl under a stone.
Worse was to come.
"We hugged," the story had me saying, "And soon tears of happiness were streaming down our cheeks."
This was more problematical, if only because:
A) I never said this.
In no small part due to the fact that…
B) Tears of happiness never streamed down my cheeks.
And also that…
C) On the off chance that I HAD ever said this, and that tears of happiness at some unspecified point DID stream down our cheeks, I would immediately have impaled myself on the nearest butter knife available.
However, giving the National Enquirer the benefit of the doubt, the phrase may just have been taken out of context. These things happen in journalism all the time. For example:
"Would you say tears of happiness were soon streaming down your faces?" McCandlish asked, when he called me up.
"No, I would not say tears of happiness were soon streaming down our face," I replied.
See how easily that can be misinterpreted?
Judith, who prior to this entire episode could only have DREAMED that one day she'd be described as "the 30-year-old cutie," was forgiving. She didn't break off the engagement, and came out of the bathroom LONG before breaking the Guiness Book of records benchmark for solitary confinement. Other friends displayed a sudden sadistic streak I'd not noticed in them before — we won't go into details here, but trust me…it takes a LONG time to live something like this down.
As for becoming a celebrity, most of the mail Judith and I received as a result of the story came from West Virginia where, apparently, the Enquirer sits comfortably beside the Bible on the best-seller list. It will shock no-one that, even though my e-mail address was inadvertently printed in the tabloid, Enquirer readers stick resolutely to snail-mail – preferably accompanied by Elvis stamps.

We've been contacted by a few authors and publishers (we'll have our own chapter in "Popping the Question," by Lauri Vierra) since then, and have even made it above the fold on the front page of the Pierce County Herald. But the William Morris Agency has nevertheless remained strangely silent.
Me? I'm not worried. I know the big time is only minutes away now.
Oprah has my number. She'll know what to do with it.