Here we go again, as I attempt to get the Muskrat Ramblings out on at least a semi-regular basis.
This may be insanity, given that con season is upon us, but the plan is to try and throw at least a few thoughts on the website on Tuesdays and Thursdays. Fingers crossed. We'll see how it goes.
****************
There's been some good news on the Dork Tower front: Issue #23 is finally in the house, having survived a rescheduling, some printer problems, and a severe storm that took out the printer when it was on press. So it should be in stores soon, and I think it looks just spiffy. Dork Tower #24 will be going to press this week, and DT 25 should follow soon after.
Yay!
****************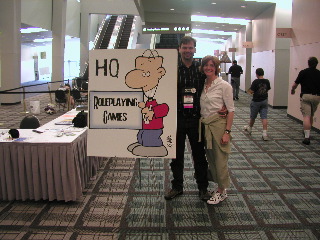 The first two summer conventions are over: Origins (Columbus, Ohio, above) and Convergence (Minneapolis, Minnesota). I've a week off before I fly to my next one (Comicon, in San Diego), and then its straight on to Gen Con.
Every year I say I'm going to cut back on conventions, and every year more seem to pop up. But this year, things are different: Adventure retail and Dork Storm Press have teamed up, so that Adventure retail will be representing us at all the major conventions. And they are doing a wonderful job of it. So there will be less pressure next year for Aaron and I to be at every single show.
Much that I hate to say it, I may take the whole summer off in 2004. This would mean no Origins, Gen Con or San Diego, but it would also mean me getting more work done, and spending extra time with the Lovely and Talented Judith, both of which are good things.
Would I miss the big cons? Most definitely. But more comics coming out would hopefully make that a bit less painful.
So anyway, I won't pull out of cons I've already agreed to, and I'm not CERTAIN I won't be at the big summer shows. But between work, home, and dealing with the stage fright that usually hits me a day or two before any major show, this is just a thought.
****************
SPEAKING of cons, the last two were incredibly enjoyable.
I'll save my thoughts and photos from Convergence until (hopefully) Thursday, since Origins was a blast and a half itself, and I want to make sure both get their props.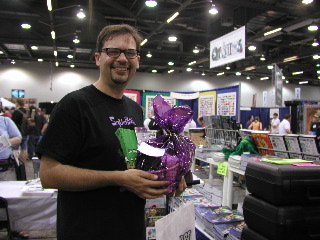 The Origins organizers are an amazing team, and Columbus was once more a fabulous time. The highlight, without question, was the Origins Awards ceremony, that turned into a once-in-a-lifetime kind of event for Judith and me.
Just a couple of years ago, I was pretty used to watching the Origins Awards from the cheap seats, as other (incredibly deserving) nominees picked up their trophies. Four years ago, all three entries I'd worked on missed the cut.
Then last year, Dork Tower won for Best Professional Gaming Periodical and Best Illustration, and things turned around.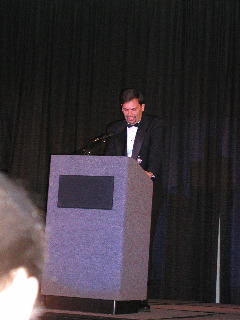 Well, if last year was spectacular, this year blew it away. Dork Tower repeated as Best Periodical, and "Understanding Gamers" took home "Best Graphic Fiction" (a new category). I was also honored to pick up a trophy for my work on "Chez Greek," and to accept awards on Steve Jackson Games' behalf for "Munchkin II" and "Star Munchkin."
But the absolute blow-everything-else away moment of the night came when I was inducted into the Academy of Adventure Games Arts and Design Hall of Fame.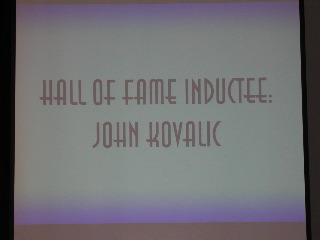 Frankly, it's hard to come up with ANYTHING intelligent to say when you're hit with something like this. If the other awards were unexpected, this just was stunning — literally. It was truly humbling, and I still can't believe it actually happened. I mean, just taking a quick gander at the other members of the Hall of Fame is like watching a "who's who" of my gaming heros over the years:
Peter Adkison • Dave Arneson • Richard Berg • Darwin Bromley • Frank Chadwick • Liz Danforth • James F. Dunnigan • Don Featherstone • Nigel Findley • Richard Garfield • Don Greenwood • Julie Guthrie • E. Gary Gygax • Tracy Hickman• John Hill • David Isby • Steve Jackson • Rick Loomis • Tom Meier • Marc Miller • Sandy Petersen • Charles Roberts • Michael Stackpole • Don Turnbull • Tom Shaw • Redmond Simonsen • Greg Stafford • Jim Ward • Margaret Weis • Jordan Weisman • Lou Zocchi
I'm still gobsmacked and kind of speechless from the whole thing: words alone just can't possibly express my feelings about the event.
Of course, this ALSO means I need to redouble my efforts on Dork Tower, since not letting the Academy down is now the primary goal over the next few years.
In fact, the only negative of the night was going up against some brilliantly strong competition that ALSO deserved to win. And nowhere was that more obvious than Nodwick's first-ever Origins nomination for Best Graphic Fiction. Aaron's an incredible talent, Nodwick #18 (which was nominated) was amazing, and frankly, I think next year will be the Year of Aaron as more and more people realize just how wonderful his work is. This is really great, great stuff.
Also, some of my Steve Jackson work went up against "Management Material" and "Battle of the Bands," two fantastic card games that I just can't plug enough. These are the games I play when I can find the time, and they both deserve the widest possible audience they can get.
In fact, the only problem with the Origins Awards is that there CAN only be one winner. In category after category, there was much there that I would have loved to have seen honored.
It was also fantastic having my brother and sister on hand (below), to watch the ceremonies. And with two doctors on the scene, if I *had* had the heart attack I feared by the end of the night, at least I would have been in good hands.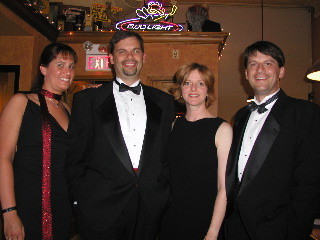 Later at the con, Steve Jackson and I did our first-ever joint signing at the Adventure Retail booth (below), attracting a seemingly never-ending queue. This meant a lot of folks got their Munchkin cards hand-drawn by yours truly, and then had them immediately made Tournament Legal by Steve. Joint signings with Greg Hyland (Lethargic Lad, Munchkin-Fu) were also a riot. If you haven't checked out Greg's work on Munchkin Fu amd Lethargic Lad, you really have to.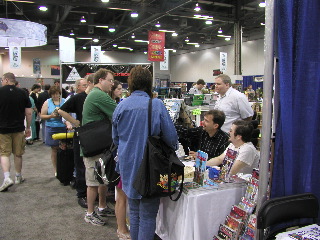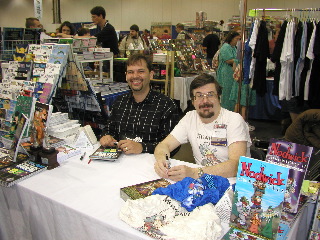 Out of the Box had new games in, always a point of pride and excitement for me. But the OtB series of games I'm REALLY looking forward to, called "Ten Days," won't be released for a while yet. Trust me on this one: these games are enormously cool, and very, very elegant. Allan Moon and Aaron Weissblum developed them, and I'd have to put them right up there with "Apples to Apples" as my favorites in our line.
I left Columbus exhausted, exhilarated and amazed. Last year's show was certainly amazing. To be asked back this year as Guest of Honor was simply indescribable.
If I am indeed unable to attend next year, it won't be for not absolutely loving the show. Because I do. Enormously.
Thanks to everyone who made this year's Origins simply something else.
– John
john@kovalic.com