TWO KURTZ COVERS,
FREE D20 MODULE MARK DORK TOWER #17
For immediate
release.
Madison, WI
— Dork Storm Press announced Monday that Dork Tower #17, "Night
of the Dinner Table," would feature the company's first variant cover.
Both it and the original cover are drawn by fan-favorite artist and
PvP creator Scott Kurtz.
"When Scott graciously
agreed to do a cover for me, I was thrilled," said John Kovalic, Dork
Tower's creator. "I loved the first mock-up we put together: It was
an old drawing he had done for me, but right away I realized it had
to be a cover in its own right.
"Then he did another
drawing for the cover, and I loved that too. It proved impossible
trying to choose between them, so I just had to use them both."
"I
remember when I started the PvP comic book, the thing I was most afraid
of was being able to come up with a cover," said PvP's Scott Kurtz.
"Now I've got three in one month, including my own.
"It's a little
nerve wracking having to draw someone else's characters. It's like
taking care of someone else's kids for a day."
The two versions
of Dork Tower #17 will be distributed in equal numbers, will have
the same product code, and will be similar in all other respects,
so as not to be seen as "collectible." They will ship together, collated.
And as a special
bonus this issue, the award-winning designers of Atlas Games' PENUMBRA
line provide a FREE dorky D20 module: "Sheep on the Borderland."
SOLICITATION
INFORMATION
Dork Tower
#17
"Night of the Dinner Table" DSP 017
48 Pages B/W $2.99
ISBN 1-930964-07-2
Written, pencilled and inked by John Kovalic
Covers by Scott Kurtz
Shipping March 8 , 2001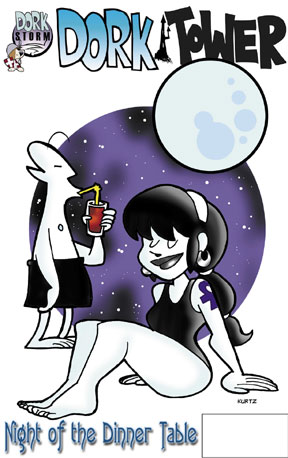 With Gilly and
Kayleigh now in the group, the gang's old beanbag-and-couch gaming
setup just doesn't cut it anymore. But will they survive a move to
(gasp) a Dinner Table? Why DO they all sit on one side anyway? Why
DO all the panels look the same? And just WHO is the mysterious Hugh
D. Hugh? Watch the mayhem unfold as tradition is thrown to the four
winds. It's a night the Dorks will never forget…it's the NIGHT OF
THE DINNER TABLE, featuring two DIFFERENT covers by PvP's Scott Kurtz!
PLUS: Greg Hyland's
Lethargic Lad, Aaron Williams' Nodwick and Scott Kurtz's PvP return
as regular Dork Tower backup features, while Mark Smylie's Artesia
continues with the second of its three-part mini-series.
And as a special
bonus, the award-winning designers at Atlas Games provide a FREE dorky
D20 module: "Sheep on the Borderland," first of the legendary Adventure
Sheep Series (A.S.S.) of modules. Give in to the Dork Side as the
world of roleplaying is skewered yet again!
– John