Well, it's getting to that
point where there are far more things going on than I've got time
to jot down here. Since
Dork Tower will be on vacation next week, I'm trying to put up something
extra every day for the rest of this week. Yesterday, it was the extra
TUESDAY Dork Tower. And boy has reaction to THAT been fantastic.
Today, I've put up DORK
TOWER GIFT TAGS in the download area again. These 8.5″ x 11″
sheets are formatted so all you have to do is download them and print
them off! There are two different files, depending on your preferences
Click HERE to download
the PDF file.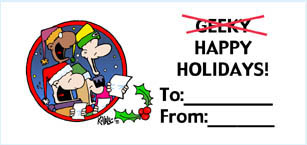 Click HERE to get to the
300 dpi JPG file.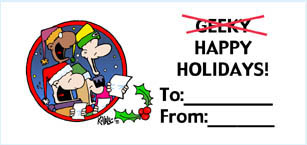 This is gonna
sound sappy, but these are just my little ways of saying thanks to
EVERYONE for the overwhelming levels of support Dork Tower has seen.
Second
bit o'news:
As I noted,
reaction to Tuesday's cartoon has
been so amazing that I'm testing it out as a
T-shirt and gaming tote-bag over at Cafe Press.
| | |
| --- | --- |
| | |
| | |


Depending
on sales at Cafe Press, I might take this into full production early
next year.
-John