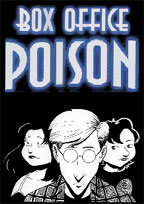 Life's insanely busy here, as I prepare for the San Diego Comicon next Wednesday. In case anyone's interested, I'm going to be on a Comicon panel Sunday, July 22, from 1:30-3 p.m.. It's on Indy creators working for publishers, and I hope not to blather too much like an idiot.
Also, as far as huge news goes, Dork Tower #15 will feature a backup story by none other than Alex Robinson! As many of you know, BOX OFFICE POISON is one of my very favorite comic books from the last decade, so I'm thrilled that some of Alex's Box Office Poison characters will be making a cameo in Dork Tower.
Dork Tower #15 will also feature a free game from Fantasy Flight Games: "Dorktex," based on their hot new game Vortex. This is going to be one of the best free Dork Tower games ever, in full color and on cardboard. All this and the comic's STILL only $2.99!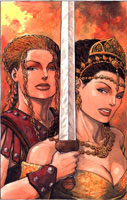 BUT THERE'S MORE! Another GIANT bit of news is that Mark Smylie will add a three-page ARTESIA backup feature to Dork Towers #16, 17 and 18. If you're not familiar with Artesia, check out the official ARTESIA website. Artesia is published by Sirius, and is another favorite of mine. (I would say it's daunting having someone who can draw far better than I can gracing the pages of Dork Tower, but let's face it…MOST people can draw far better than I can!)
There'll soon be some more huge news regarding an additional backup feature running in Dork Tower, as well as the lineup of free games in fuiture issues, but I don't want to give too much away right now. Suffice it to say, once you hear the names I'll be working with and who'll be contributing, I think you'll be thrilled and delighted.
Let me just note, however, that Alex Robinson, Mark Smylie and Michael Brennan ("Electric Girl") are all up for an Eisner Award as "Talent deserving of more recognition." They ALL deserve more recognition, and while I'm glad the Eisner board has recognized this, it bites that three of the coolest, most talented folks in the industry are going head-to-head against each other.
In yet MORE big news (can you stand it?), MUNCHKIN is back from the printer! It should be in stores soon, and I'll have copies at both San Diego and GenCon!
Not quite last and by no means least, I'm told that the German version of Dork Covenant is in stores now, and is selling like hotcakes. An entire shipment of 30 sold out of one store the day it arrived. So I'm as happy as a clam, even though I won't be able to read more than a word or two of it when it arrives here.
Finally, for the LAST big news of the day: Dork Tower #14 GOES TO PRESS TODAY! It should (fingers crossed) be out in time for GenCon. And it's a story I don't think ANYONE will be expecting. But look forward to another huge twist by the end of it.
It'll be the link between the big ending in Dork Tower #13 and a major change in the characters' relationships in Dork Tower #15. The entire story takes place in two hours (for the characters), and it allowed me to explore one or two of the main players a bit.
Lastly, new comic strips on the website will be sporadic throughout convention season at best, but I hope to have new Dork Towers up Mondays, Wednesdays and Fridays, starting next week.
Sorry for the lack of daily material, but convention season is hard on a lad!
John