First off, there's only a week to go, as far as voting for the Origins Awards goes. Dork Tower's up for a couple of awards. But it doesn't matter WHO you vote for, just vote, and support the Origins Awards!
And speaking of awards, CHEZ GEEK won an InQuest Fan Award! The game won the magazine's 'Best Card Game of 2000' title. MANY thanks to Steve Jackson Games for being a part of this very cool project. . .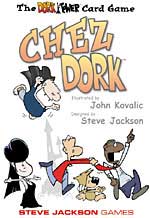 And speaking of Steve Jackson Games, MUNCHKIN is in stores soon! It's at the printer now, and if you liked Chez Geek, you'll LOVE this. Here's the lowdown:
"Go down in the dungeon. Kill everything you meet. Backstab your friends and steal their stuff. Grab the treasure and run.
"Admit it. You love it.
"This new card game, designed by Steve Jackson, captures the essence of the dungeon experience . . . with none of that stupid roleplaying stuff. You and your friends compete to kill monsters and grab magic items. And what magic items! Don the Horny Helmet and the Boots of Butt-Kicking. Wield the Staff of Napalm . . . or maybe the Chainsaw of Bloody Dismemberment. Start by slaughtering the Potted Plant and the Drooling Slime, and work your way up to the Plutonium Dragon . . .168 cards, rules sheet, and sturdy set-up box Stock #1408 Suggested Retail Price: $24.95"
The game was a huge amount of fun to work on, and it was a massive thrill being the sole illustrator on a game designed by Steve Jackson. In fact, I can honestly say this is one of the greatest honors I've ever had. Here are some card samples: