PRESS RELEASE
"WARHAMSTER RALLY" AT THE GATE
JOLLY ROGER GAMES PRODUCES FIRST LICENSED DORK TOWER GAME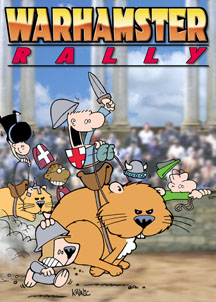 (April 16, 2001) Madison, WI- Jolly Rogers Games in conjunction with Dork Storm Press will be release "WARHAMSTER RALLY", the first licensed board game based on the DORK TOWER comic book WARHAMSTER world, June, 2001. "The game is a perfect fit," said Jolly Roger Games President Jim Dietz. "With lots of player interaction and a hilarious premise, even non-Dork Tower readers will have a blast."
John Kovalic, Creator of Dork Tower, said "I am excited that we are able to work with Jolly Roger Games. Both companies seem to have the same goal — fun! I was addicted to "Warhamster Rally" the first time I played it: It's a crazed "Ben Hur" on laughing gas!"
The game takes the Dork Tower characters into their now-famous fictional world of Warhamster. There they race their mighty Warhamsters around a wild track filled with Auroran Battle Budgies, Jolly Jongleurs and Kobold-kin. The game takes less than an hour and is playable with 3-5 people.
"I'm extremely happy with how the game turned out," said veteran game designer and Warhammer Rally creator Frank Branham. "Warhamster Rally is a manic mix of racing, hosing your friends, and figuring out how to save your butt when they hose you. It packs all the action of most race games into a frenzied 45-minutes!"
Featuring top-quality German-style components, new illustrations by John Kovalic, a free copy of the Dork Tower comic book in each game and bookcase-game packaging, Warhamster Rally is expected to have a SRP of around $30. Comic and game fans alike should be able to purchase this product in their local hobby store.
Let the games begin!
For more information, contact
Jolly Roger Games, PO Box 61, Sigel, IL 62462, (217) 844-4448, jollyrogergames@hotmail.com, jollyrogergames.hypermart.net
Dork Storm Press, PO Box 45063, Madison, WI 53544, (608) 255-1352 sales@dorkstorm.com
E-mail JOHN