Item One: First off, thanks to the folks at MEMEPOOL.COMfor sending a TON of people to these little ol' pages.
Here's what they had to say about DorkTower.com on Tuesday:
"Dork Tower is a wonderful comic drawn by John Kovalic. It's a humorous story about the trials and tribulations of a bunch of gamers. Unlike other comics about gaming, you don't need to read a news page to get the punchline. If you don't have time to go through the online archive or buy the graphic novel it's at least worth checking out the T-shirts John has designed, as well as his editorial cartoons."
ItemTwo: Well, enough people have asked for it, so here it is: the first ever DORK TOWER T-shirtthat's just that: a Dork Tower T-shirt!
That's right –100% pure Dork Tower. No cute sayings. No pathetic attempts to appeal to non-Dork Tower fans. Just three guys and a muskrat (and, on the back, another muskrat, but that's another story).
There's a CafePress version now available. If it does well, I'll make it a general release (and check out the mugs – I think they look real spiffy).
Apologies to overseas readers. I know the shipping on Cafe Press shirts is well-nigh ridiculous. So if the shirts do well, I promise to get them into stores outside of North America as soon as possible.
---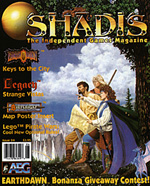 MUSKRATRAMBLINGS
Monday, March 5
Randomthoughts for random times…
OK, everyone! Time to traipse back to the DORK TOWER ARCHIVES!I've just finished completing a THIRD section there. This time, it's the full SHADIS MAGAZINE archives!
Yes, remember the mid-to-late 1990s? Internet nuttiness, Collectible Card Games and the death of Grunge?
I hear they're making a comeback. Now relive them all, and find out how DORK TOWERfirst started, with the nearly-compete (one strip is missing) SHADIS series!