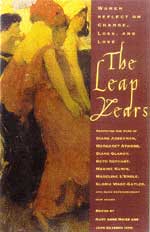 MINNEAPOLIS — If here's one thing I missed this holiday, it was just hanging out with some friends, being festive. Good friends are the best thing on earth (after Family), and I've been blessed with a few great ones. Today I drove into the Twin Cities to visit my good friends Steve Sack and Sean Doyle and Patty Cumbie. Steve's the editorial cartoonist for the Minneapolis Star-Tribune, and is creating some beautiful oil paintings that just leave me speechless. Patty is a dear friend since college, and has recently had a short story published in an anthology called "The Leap Years: Women Reflect on Change, Loss and Love" (Beacon Press). Other writers in the anthology include the likes of Margaret Atwood, so even before I read the story, I was impressed.
Patty's story, "Crushed Out," is remarkable. It's sweet and poignant, hard-hitting and painfully honest yet often hilarious. It's one of the best short stories I've ever read, and I'd even compare it to those of Lorrie Moore, whom I consider one of the best short story writers out there.
Pat — if I never said it before, I'm proud as hell of you!